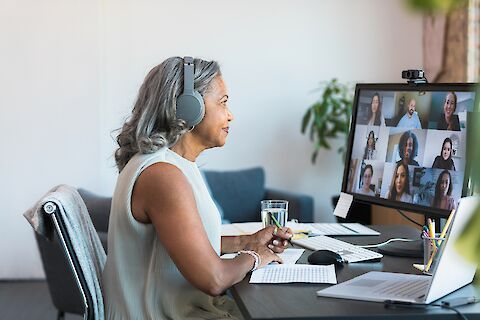 One of the struggles that you will have to deal with as a senior is missing your family members. Although it is normal to feel this way, sometimes the feelings can be overwhelming. You may feel more overwhelmed this holiday season, especially if it is the first holiday season to spend away from your family. Thanks to the internet, you can now stay in touch with your loved ones even when they are far away. Here are some ways senior citizens in Scottsdale can reach out to their family and friends this holiday season.
Social Media
Seniors living in Paradise Valley can use social media platforms such as Facebook and Instagram to communicate with their loved ones, even if they are far away. These social media platforms allow you to share photos and videos with your loved ones. The platforms also have applications that allow you to voice call, message, and video chat with your family members.
WhatsApp is another easy-to-use social media platform seniors in Fountain Hills can use. This platform has different features, including online messaging, voice calls, and video chat features. It also has a group chat functionality, making it easy for several people to communicate.
Video Calling
Senior Citizens in Mesa can use video calling applications such as Facetime to video chat with their loved ones. The Facetime application is usually pre-installed in apple devices such as iPhones, Mac laptops, and iPads. It uses an apple device's ID to connect with other apple devices. It is one of the easiest applications to use, and users are not required to pay any fee to use it.
Zoom and Skype are other video applications that loved ones in Care Free can use. With these applications, senior citizens can hold virtual game nights and play video games, poker, scrabble, and other games. People with senior relatives can host virtual meal parties whereby you and the family members grab food and drinks and eat while video chatting. Senior Citizens who love dancing can hold virtual dance parties with the help of this application. Such parties can help seniors in Mesa starve off isolation and get them active.
Emailing
Senior Citizens in Cave Creek who prefer written content over voice calls and video calls can communicate with their loved ones through emails. Emailing applications such as Gmail are easy to use and allow you to send instant messages. The hangouts feature in Gmail makes it possible for one to send messages and start video chats and voice calls.
Conclusion
If you are worried about who will take care of your senior relatives residing in Scottsdale, worry no more. The Senior Helpers of Scottsdale offer in-home care services that are tailored to match your loved ones' needs in Scottsdale, Mesa, Carefree, Cave Creek, Fountain Hills, and Paradise Valley residents. Our team consists of professional caregivers, certified nursing assistants, and personal care aides. Contact us to know more about our services.