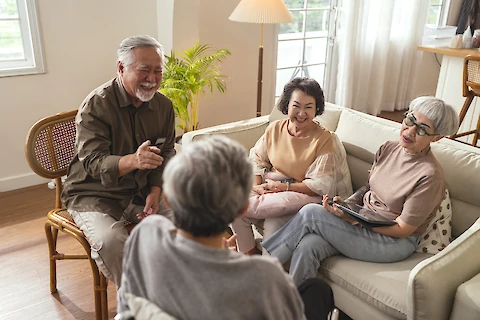 Research has shown that strong social connections can improve mental and physical health, reduce stress, and even increase longevity. But, with life changes such as retirement or the loss of a loved one, maintaining meaningful connections can become more challenging.
Don't worry, we're here to help! In this blog post, we'll share some actionable tips to help seniors like you stay connected with family, friends, and the community. Let's get started! 
1. Join Clubs or Hobby Groups
One of the most enjoyable ways to stay socially connected is to find local clubs or hobby groups that cater to your interests. Whether it's a book club, gardening group, or painting class, there are plenty of opportunities available in Scottsdale, Mesa, and the surrounding areas. The shared experiences and common interests will help you make new friends and provide a sense of belonging. Remember, it's okay to attend these groups regularly or occasionally, depending on your preferences.
2. Volunteer in Your Community
Volunteering offers a fantastic way to give back, stay connected to your community, and meet like-minded individuals. There are various volunteering opportunities available in the local area, from helping at local food banks to participating in environmental initiatives. Choose a cause close to your heart or explore something new, depending on what sparks your interest and passion.
3. Attend Community Events
Local events such as farmers markets, arts and crafts fairs, and gardening workshops in Scottsdale, Mesa, Paradise Valley, Fountain Hills, Care Free, and Cave Creek provide excellent opportunities for social interaction. Attending these events not only allows you to meet new people but also keeps you active and engaged. Feel free to attend events that cater to your interests. You can also step out of your comfort zone and explore new experiences.
4. Keep in Touch Using Technology
Social media platforms such as Facebook and Instagram can be invaluable tools to stay connected with family and friends. They allow you to share updates and photos with loved ones who live far away. Video chat platforms like Zoom easily help you bridge distances with individuals or groups. 
While embracing technology can be intimidating at first, it's well worth the effort to reduce feelings of isolation and loneliness. Remember to choose the right platform for you and set boundaries to ensure you maintain a healthy balance with technology.
5. Participate in Learning Opportunities
Lifelong learning can keep your mind sharp and foster new social connections. Sign up for classes or workshops in your community.  Try online learning platforms, which offer a wide range of topics tailored to your interests or new subjects you'd like to explore. Plus, the new knowledge you gain can serve as a conversation starter with others!
6. Stay Physically Active
Physical activity not only benefits your body but also your mental and social well-being. Participating in group exercise classes or joining walking groups can help you stay active while also providing opportunities for social interaction. Choose activities that suit your fitness level and personal interests, and enjoy the bonus of meeting new people who share your passion for staying active. And don't forget to check in with your physician before starting new physical activities! 
7. Seek Support When Needed
Don't hesitate to reach out for help when you need assistance with staying socially connected. Friends, family, or professionals can provide guidance and resources to overcome barriers and maintain meaningful connections. Knowing when to ask for help and finding the right resources is essential to maintaining your social well-being.
We Can Help You Stay Engaged
Staying socially connected as we age is essential for our overall well-being. With these tips in mind, we encourage you to explore new ways to strengthen your connections with family, friends, and your community.
Need help making time for social activities? If you or a loved one are in the Scottsdale, Mesa, Paradise Valley, Fountain Hills, Carefree, or Cave Creek areas, contact us at Senior Helpers Scottsdale to learn about our services, from light housework and transportation to assistance with personal care and companionship.