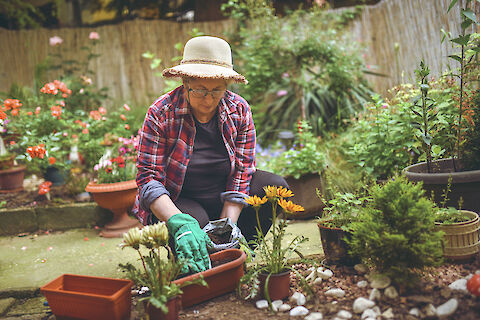 As the days grow longer and the weather warms up, springtime brings with it the promise of colorful blooms and outdoor activities. It's a wonderful time for seniors to enjoy the beauty and energy that this season has to offer. However, seniors need to stay safe and healthy during this time of the year. Keep reading for valuable advice on how to make the most of this delightful season while staying safe and comfortable.
Common Injuries and Accidents for Seniors in Spring
Here's a look at some of the most common injuries that seniors experience:
Slips and Trips on Wet Surfaces
Spring showers can lead to slippery sidewalks and walkways. To prevent slips and trips, consider investing in non-slip shoes that provide good traction. When navigating wet surfaces, walk slowly and cautiously, using handrails whenever possible. Keep outdoor areas well-lit to improve visibility during darker, overcast days.
Falls From Ladders During Outdoor Maintenance
Spring often means outdoor chores like cleaning gutters, trimming trees, or repairing damaged roof shingles. However, these tasks often require the use of ladders, which can pose a risk for seniors. To avoid falls, always have someone assist or supervise you while using a ladder. Falls are common for seniors and can cause extensive injuries. Ensure the ladder is stable and on level ground before climbing, and maintain three points of contact (two hands and one foot or two feet and one hand) at all times.
Gardening is a popular springtime activity, but it can lead to injuries such as back strain or sunburn. Remember to take breaks, use proper lifting techniques, and wear sunscreen and a hat for sun protection. Additionally, be mindful of insects like bees and mosquitoes. Wear insect repellent when necessary and keep an eye out for nests or hives to avoid any unwanted encounters.
Reducing Symptoms from Allergies
Consider these tips to reduce the symptoms of allergies:
If you suffer from seasonal allergies like hay fever, it's crucial to speak with your doctor about the best allergy medications for you. Begin taking your medication before allergy season starts so it has time to take effect. Set a specific time every day to take your medication and consider using a pill organizer to help you remember.
Wearing Protective Clothing When Outdoors
To reduce your exposure to allergens, wear long sleeves, hats, and sunglasses when spending time outside. These items can help shield your skin and eyes from pollen and other irritants. When you return indoors, change your clothes and shower to remove any allergens that may have clung to you.
Avoiding Pollen-filled Areas When Possible
Some outdoor areas have higher pollen counts than others, especially during peak allergy season. Stay informed about local pollen levels by checking your weather app or news sources. Consider choosing alternative outdoor activities in areas with less pollen, such as a stroll through a shopping center or an indoor botanical garden.
Senior Helpers Scottsdale Partners With Seniors To Keep Them Healthy
Staying safe during the spring season allows seniors to fully enjoy the beauty and warmth this time of the year has to offer. By taking precautions to avoid accidents and managing allergy symptoms, you'll be better equipped to embrace the joys of spring. If you live in Scottsdale, Mesa, Paradise Valley, Fountain Hills, Care Free, or Cave Creek and need assistance with springtime safety or daily living activities, our caregivers can help with light housekeeping, provide medication reminders, and provide transportation. Contact Senior Helpers Scottsdale to learn how we can support your needs and help you make the most of this wonderful season.