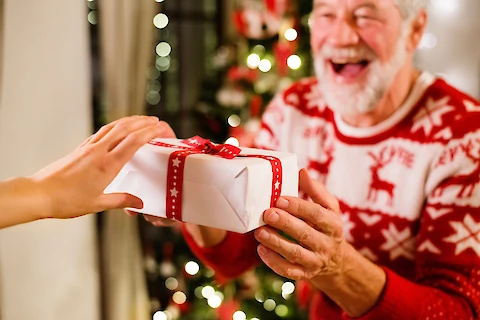 Finding a gift that your aging loved one will use and enjoy can be a challenge. How do you give a gift to someone who seems to already have everything they need? Many seniors have limited space to hold their belongings and would prefer to have a more practical gift. Whether you're shopping for a parent, grandparent or an elderly neighbor, here are a few gift ideas for seniors that they're sure to love, appreciate and use. 
Technology  
Whether they are looking to stay up to date on the latest technology or improve their home safety, there are several options to choose from.  
Digital Picture Frames are a great gift that can be updated over time! They are a great way to showcase several memories in a limited space.  

Robot Vacuums can be extremely helpful to seniors who may not be able to clean around the house as often as they once did. They are self-charging and work on hardwood floors and carpet.  

A Digital Tablet can be a great source of entertainment for your aging loved ones, with games, books, videos and more for them to explore. It can also be a great way for them to keep track of any notes and calendar reminders.  

There are several Devices and Applications to Help Seniors Age in Place, check out our blog to learn more. 
Keepsake 
Capturing special memories into material objects can look different for everyone.  
Customized ornaments are small items that can bring joy and memories to your aging loved one each holiday season.  

Photo blankets are a great way to keep seniors warm and cozy with familiar faces all around.   

Personalized décor items for seniors to hang on their wall or keep as a keychain can be a great way for them to be reminded of their loved ones.    
Entertainment  
There are a variety of ways to keep your loved one engaged and entertained.  
Headphones can provide a more immersive experience for those who love to listen to their favorite music or podcasts.  

Subscriptions – TV or Print Whether they are watching their favorite show or interested in all the new recipe ideas that their favorite magazine releases, subscriptions have much to offer.  

Crafts and Puzzles Guided coloring, painting, puzzles, and other creative outlets can help to engage your aging loved one's creative side.  
Relaxation  
When was the last time your aging loved one treated themselves? Give them a head start with one of these gifts.  
Gift Certificate to their favorite restaurant, spa, hairdresser and more. Think about some of their favorite activities and get creative. If you're available, offer to accompany them.  

Weighted or Heated Blankets can be a great way to help seniors relax and get cozy. Determining their comfort needs can help you decide which blanket may be best.  

Battery Powered Candles or Essential Oils are a simple way to uplift one's mood and promote relaxation.  
Quality Time 
As we age, the value in spending time and creating memories with loved ones increases. There are countless material gifts that anyone can enjoy, but quality time is a priceless gift. If you can, take the time to engage with your aging loved one. Whether it is through a phone call, video chat or in person.  
There can be a lot of pressure to choose the "perfect" gift for your aging loved one. Be mindful of what's most important to you and your loved ones and the decision may be easier than you think.  
Are you the primary caregiver of an aging loved one who needs some time to prepare for the holidays? Senior Helpers has you covered. As the primary caregiver for your loved one, it is important to recognize that it is ok to take a break from your caregiving responsibilities. Senior Helpers' Respite Care Services  enable your senior loved one to comfortably remain in their own home, while providing you with a much-needed interval of rest or relief. Contact Us for more information.