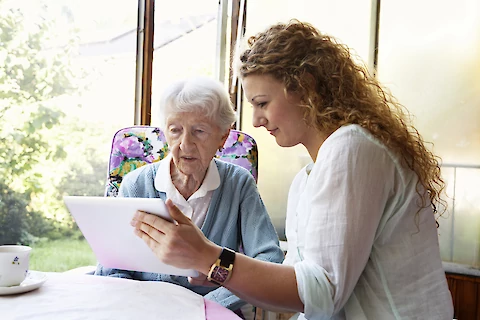 Technology for Seniors: Devices and Applications to Help Seniors Age in Place
Baby Boomers, the generation of Americans born between 1946 to 1964, are currently the second largest generation in America. By 2030, all baby boomers will be age 65 and older. According to Census Bureau projections, older adults are projected to outnumber children under age 18 for the first time in U.S. history by 2034. Technology plays an important role – now more than ever – in aiding the growing population of seniors that wish to age in place.  
Technology is rapidly changing. Learning and introducing new technology to the seniors in your life may seem complicated, but it doesn't have to be. There are countless tech devices with intuitive, user-friendly features on the market.  
Here are some of the most popular tech products and applications that may improve quality of life for seniors:  
Fall Detection  
For older adults, falls can be a huge source of concern. They can be very dangerous and costly, especially if there aren't systems in place for assistance. In addition to reducing the risk of fall in the senior's environment, using a medical alert device can be helpful in case of emergency. A medical alert device that is worn daily can alert emergency contacts as well as medical professionals, if needed.  
Smart Home Device  
Smart home devices and digital assistants can aide in organization, time management, providing information, and more. Voice operated devices can reduce the amount of stress and learning curve many seniors may encounter when interacting with new technology. Whether seniors are looking to organize their daily tasks with reminders or use it to communicate with loved ones, these devices can be helpful.  
Home Security 
Digital monitoring systems in the home can be especially helpful for seniors who live further away from their loved ones. They are helpful in alerting seniors to any visitors or deliveries they may be expecting. Digital doorbells give seniors the opportunity to communicate with visitors without having to go to the door. They are often compatible with smart home devices which enable them to be alerted throughout the home. Seniors and their loved ones can access their monitoring systems whether they are at home or away via mobile devices.  
Meal Delivery Services 
Meal delivery services can be especially helpful to seniors who don't have consistent transportation. There are a variety of options when it comes to deliver services from prepared food, meal kits, groceries, household items and more. Orders can be placed within hours of delivery to save seniors the hassle of transportation and the risks that may come with carrying multiple items.  
Medication Reminders  
It's no secret that medication planners are widely used and helpful for people of all ages. Some digital medication planners can provide both visual and auditory notifications. Utilizing the reminder or alarm applications in smart devices is one of the most accessible ways to set reminders. Most digital alarms give the option to add text which can be helpful in remembering different medications.  
Whether it is a reminder on their smart device, an in-home security system, or other tech device, technology is helpful for people of all ages. While it may seem intimidating at first, learning about new devices may reduce stress and increase engagement for many older adults. At Senior Helpers, our caregivers are here to help your senior loved ones determine what technology may work best for them. Senior Helpers provides the peace of mind you need when making the decision to honor your family member's wish to remain in their home. Contact us to learn more about how you can help your loved one age in place.