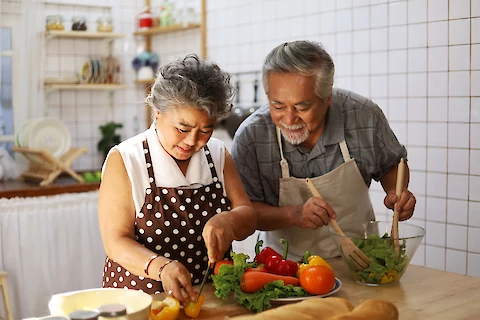 More Herbs, Less Salt: Low Sodium Recipes
We have always known that salt can help to enhance the flavor in many foods, and while it is good, have you ever considered the negative impact of sodium? Too much sodium can become a serious health risk for many. Our bodies need sodium as it is a necessary electrolyte used for muscle and nerve function, but we need to watch how much we include in our diet.
Senior Helpers would like to introduce More Herbs, Less Salt Day! This day encourages everyone to season their meals with herbs and use less salt as well as lower sodium substitutions. Using herbs provides numerous health benefits but also increases the flavor of the dish. Herbs may provide anti-inflammatory or heart health benefits. Fresh or dried herbs are a better alternative to salt any day. Below are two low sodium recipes you can try at home.
Spinach & Mushroom Quiche
Ingredients
2 tablespoons extra-virgin olive oil
8 ounces sliced fresh mixed wild mushrooms such as cremini, shiitake, button, or oyster mushrooms
1 ½ cups thinly sliced garlic
5 ounces fresh baby spinach (about 8 cups), coarsely chopped
6 large eggs
¼ cup whole milk
¼ cup half-and-half
1 tablespoon Dijon mustard
1 tablespoon fresh thyme leaves, plus more for garnish
¼ teaspoon salt
¼ teaspoon ground pepper
1 ½ cups shredded Gruyere cheese
Check out the full recipe here: https://www.eatingwell.com/recipe/278023/spinach-mushroom-quiche/
Chicken & White Bean Soup
Ingredients
2 teaspoons extra-virgin olive oil
2 leeks, white and light green parts only, cut into ¼ inch rounds
1 tablespoon chopped fresh sage, or ¼ teaspoon dried
2 14-ounce cans of reduced-sodium chicken broth
2 cups water
1 15-ounce can cannellini beans, rinsed
1 2-pound roasted chicken, skin discarded, meat removed from bones and shredded (4 cups)
Check out the directions here: https://www.eatingwell.com/recipe/248881/chicken-white-bean-soup/
Senior Helpers Companion Care offers services like meal preparation, general shopping and errands, and reminder services, and more. We want to be the companion who reminds you to use less salt and more herbs in your diet: https://www.seniorhelpers.com/services/companion-care/