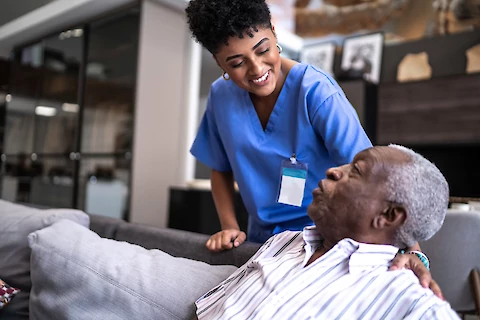 How to Cope with an Alzheimer's Diagnosis as a Family
Alzheimer's disease is most common in people over the age of 65 and affects every 1 in 14 seniors this age while affecting 1 in every 6 seniors over the age of 80. When caring for loved ones with Alzheimer's and dementia, it's crucial to understand their diagnosis and what care options they may need as time progresses. The effect on your entire family can be overwhelming, but Senior Helpers is here to help with strategies to cope with this disease.
This progressive disease begins with mild memory loss and can lead to the loss of ability to communicate with others. Some may also experience confusion, a decrease in focus and concentration, and difficulty completing simple tasks.
Some strategies for coping with an Alzheimer's diagnosis include:
1. Sharing responsibility
To help a loved one with Alzheimer's and dementia, they will need help with daily tasks and a tremendous amount of support. Making a list of responsibilities or roles for certain family members to provide care for this individual will help them feel comfortable and loved.
2. Being patient
Adjusting to Alzheimer's can be challenging for anyone, especially the one who was diagnosed with it. The main thing is to be patient with them and support them emotionally, to help them from feeling overwhelmed.
3. Communicating in a way they understand
Helping the individual with Alzheimer's communicate can provide relief and comfort. Those with Alzheimer's may experience memory loss that can prevent them from remembering a loved one or important events. It's crucial to learn how to properly communicate with them by not correcting them but acknowledging what they've said and moving on.
At Senior Helpers, we have a unique approach to Alzheimer's disease. Our Senior Gems program is based on GEMS techniques, strategies, and an overall approach to care. Senior Gems was created and developed by Teepa Snow, Positive Approach, LLC to help us better understand which stage of dementia an individual is experiencing to provide the best level of care for them. This program highlights what is valuable and unique about each senior while working with them to help them live a purposeful life at home.
We understand how hard it can be for families when their loved ones are suffering from Alzheimer's and want to provide the senior community with a distinguished program that allows our caregivers to provide the highest quality of care. If you're interested in what our Senior Gems program can provide your loved ones, visit our website to learn more.