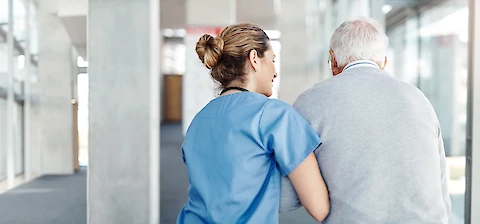 Commit To Your Health This June
June is the start of Men's Health Month which is the time to bring awareness to the health issues that all men face. Dedicated to enriching men's lives, education-based campaigns were created to advocate for top medical conditions that men face. Men are less likely to seek healthcare than women which makes it difficult to spot and treat a diagnosis early on. They typically also exhibit a fear of diagnosis, with more than 40% of men deciding to not go to the doctor unless they have a serious medical condition.
It is important to understand the health risks faced by men over the age of 65 and the regular screenings that are recommended for this age group. Some screening tests that are recommended include:
Abdominal aortic aneurysm
Prostate screening
Blood pressure
Colorectal cancer
Depression
Diabetes mellitus, type 2
Lipid disorders
STD
Prostate cancer, the second leading cause of cancer death among men in the United States, is treatable when caught in the early stages. A few early warning signs of prostate cancer are difficulty urinating, frequent urges to urinate at night, blood in urine and burning or pain while urinating.
Senior Helpers can provide peace of mind for you and a watchful companion for your loved one in their time of need. You want to be there with your loved one every minute of the day, but you simply cannot. Our caregivers are trained to provide services and comprehensive non-medical care and assistance to seniors.  We are determined to make certain that the men in your life receive compassionate and professional care to live a comfortable and safe life while aging. Learn more about how Senior Helpers can be there for your loved one by clicking here: https://www.seniorhelpers.com/services/