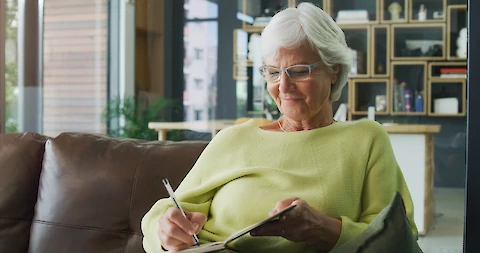 Though everyone can enjoy it, journaling is a beneficial activity for older people. Whichever topics one chooses to address, it can contribute immensely to someone's mental health. If your loved one hasn't started, they should get to it as soon as possible.
How Journaling Helps Older People 
While journaling is a fun way to pass the time, here are the benefits older people can gain from it.
1. Preserve Memories
Journaling helps older people keep track of their memories, whether something that happened a few minutes ago or ten years ago. If they are open about sharing their journal, they can allow their grandchildren to learn more about them through the preserved memories.
2. Manage Stress
Too much stress can negatively affect mental health. Journaling allows people to clarify their feelings and thoughts to better deal with a particular situation. Older people with strong emotional responses to situations can take it as a hobby to help process what they are going through before reacting.
3. Maintain Brain Function
The inner workings of the brain of seasoned writers behave similarly to that of professionals in fields like sports and art. In the same way, sportsmen get better by practicing daily, and people improve their health through exercise— journaling is the best workout for older people's brains.
How to Get the Most From Journaling
Older people can get the most out of journaling by following these tips:
Journaling every day - Just like taking a shower every day, people over 65 should get into the regular flow of writing each time something worth remembering comes to mind. 
Keep writing tools close - To journal feelings; one must have the necessary tools. These are a pen and a blank book. However, in this digital age, a smartphone, laptop, or iPad can also work. 
Writing about gratitude whenever they get writer's block-writing anything positive will lift their spirits and encourage their thoughts to start flowing.
Topics to Write About
Now that the benefits of journaling have been addressed, what is there to write about? There are various subjects older people can journal about. While the topics don't matter as much as the consistency of journaling, having a few topics in mind can help start the process. Here are the topics that can help them start:
1. Daily Routine
Older people can start by journaling about their daily activities and routine, for instance:
What they do each day
How they felt strongly on a particular day
What they ate or drank that they liked
2. Memories
Keeping track of memories is a good way to remember important things in one's life. Some of the things the older population can write about include:
What period of their life do they look forward to?
The most important and influential people in their life
Any random act of kindness they did to someone
3. Fun and Random Things
Writing doesn't have to be about sad or boring stuff. Older people can write about topics that excite them, such as:
Things that make them happy
The movies they enjoy watching
What their favorite scent reminds them of
Final Word
Journaling is therapeutic, and it will give older persons a sense of purpose and escape from the norm. 
At Seniors Helpers, we provide seniors with dependable, consistent, and affordable non-medical services to help them make the most out of life. Visit any of our locations at Thousand Oaks, Westlake Village, Oxnard, and Newbury Park to discuss your senior loved one's care needs. Contact us today for more information.