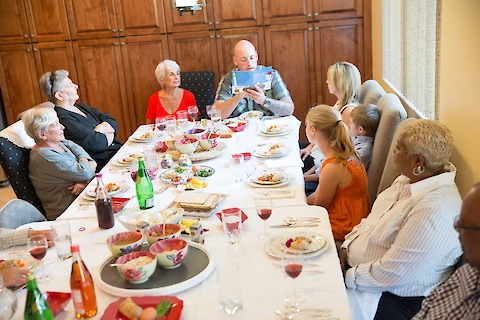 As Passover approaches, many families take part in traditional celebrations such as sharing a meal together. But if your senior relative is on their own and feeling overwhelmed by the prospect of having to prepare for a lavish dinner, fear not – there are plenty of ways to help them make the most out of the festivities without putting excessive strain on their mind and body. 
This will discuss how to share prep duties and guarantee that your senior loved one will enjoy quality time with family while still safeguarding their health. 
Assess Your Senior Relative's Comfort Level With Meal Preparation
The first step you should take is to assess your elderly relative's comfort level with meal preparation. Do they have the capacity – both mentally and physically – to prepare a meal on their own? If not, do they feel comfortable asking for help if needed? Answering these questions will help you determine what type of assistance is necessary in order for them to participate in Passover preparations comfortably and safely. 
Create a Plan
Once you've assessed your senior relative's needs and capabilities, the next step is to create a plan. What specific duties need to be completed? Who will do them? Make sure each task gets assigned to an appropriate family member with enough awareness of how their job contributes to the whole. 
If there are particular dishes your senior relative would like served at the meal but can't participate in creating them due to physical limitations, consider having other members commit to those tasks as well. 
Assign Tasks to Various Family Members
Let your senior loved one choose which tasks to assign each family member. This will help give them a sense of purpose and make them feel that their participation is valued and appreciated. It's also important to ensure that everyone fully understands what their role is in the plan so nothing gets overlooked or forgotten. 
Finally, once everyone has taken on their assigned duties, it should be discussed when and where things need to be completed so all preparations can be timely and stress-free. 
Have Someone Else Host the Meal
If your elderly relative is feeling overwhelmed by the prospect of prepping an entire meal, consider having someone else host instead. This will help lift the burden from their shoulders and allow them to focus on enjoying the celebration with friends and family without feeling burdened.
It may even be beneficial for you or another family member to hire a catering service or work directly with a personal caregiver. Doing so will ensure that your senior loved one gets all of their necessary help when planning Passover operations – whether it's grocery shopping, home cleaning, transportation assistance, or preparing a big dinner at home. 
Senior Helpers Can Provide Passover Support
Passover can be overwhelming, but with a little bit of planning and prior knowledge, it doesn't have to be. With the help of family members and professional caregivers alike, you can make the festivities enjoyable for seniors by giving them an easy way to participate without becoming overburdened. Contact us at Senior Helpers East San Diego to learn about the senior care services that we offer to senior adults in the La Mesa, San Diego, El Cajon, Santee, and Lakeside areas.