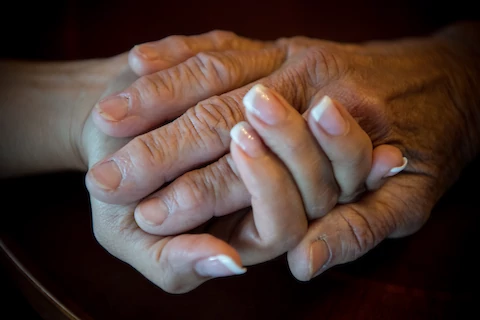 Our History
Senior Helpers East San Diego proudly joined the exceptional team of Senior Helpers owners in early 2020. It is locally owned and operated by Cassia Yi APRN CNS, Jesse Yi MD and Maureen Mostella.
Cassia and Jesse Yi, together, have over 26 years of medical experience in San Diego. They see first-hand the challenges Seniors face when being discharged from the hospital. Although most older adults value returning to their homes, not all have structures in place to support them.

Jesse attributes much of his strength and his Faith to his grandparents who helped raise him from a young age. He lived in a household that deeply respected Elders. Now as a father himself, he sees the precious value of his Senior parent's presence in his own life as well as his family's.
Cassia's hero is her fiercely independent grandmother who chose to live alone in her home well into her 90s. Up until her passing, she was an active member of her community; she regularly attended church, visited friends, and took cross-country road trips! Her lifestyle and spirit defied her age – a quality Cassia believes all Seniors can achieve.
Maureen is blessed to have three of her Grandparents live into their 90s! Although affected by dementia and Parkinson's Disease, her Grandparents were able to remain in their homes – with help from family and amazing Caregivers! So many wonderful memories with her Grandparents in their home –from evening talks to sharing chocolate. She believes the value of a Caregiver is immeasurable and is forever grateful to all Caregivers out there, making lasting family memories possible.
Jesse, Cassia and Maureen started Senior Helpers East San Diego because Seniors deserve the right to high quality care in the comfort of their home. This is their commitment to the community:
WE MENTOR OUR HIGHLY TRAINED CAREGIVERS. We are first and foremost, Caregiver Mentors! Caring for Seniors starts with a Heart to Serve and we cherish that. As mentors, our job is to empower their Caregiver Heart with knowledge, experience and confidence. This happens before a Caregiver ever enters a home. Our Caregivers are not independent contractors. And once in the home, we continue to mentor and supervise our Caregivers to maintain accountability and quality.
We are not a referral service, where workers are assigned to cases, leaving families to sort through the more arduous points of employment — like payroll taxes, background checks, or whether they're bonded and insured. We do all these things in advance, along with testing skills, verifying credentials, and speaking with families they've worked with before.
WE NEVER SEND A STRANGER. We recognize that one of the most difficult aspects of being the client of a home care agency is having an unfamiliar Caregiver show up. With Senior Helpers, a proper introduction will be made from Caregiver to Client, in person, every time.
Nurse support is available 24/7. Most private-duty home care companies offer little or no nurse support. Our ownership includes an Advanced Practice Nurse as well as well as a Board-Certified Physician.