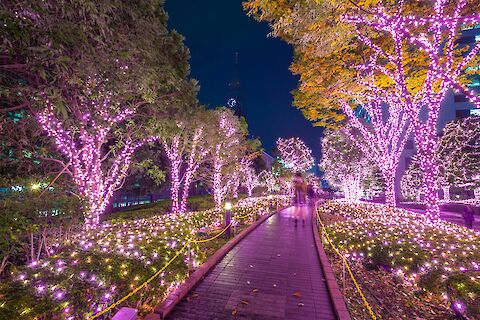 How to Find Local Drivable Holiday Light Displays
San Diego shines brightly all year, but locals enjoy the glitz and glamour during the winter holidays. Visiting a top-notch San Diego Christmas light display is a great way to get into the holiday spirit. This article provides tips on how to find local drivable holiday lights display and lists a rundown of some of the more well-known holiday light displays in San Diego.  
Tips On How To Find Local Drivable Holiday Light Displays
1. Online Search
Try looking for Christmas light displays in your neighborhood on the internet. You can often obtain information on Christmas light displays by visiting the city or town's official website or social media page. Also, you can narrow down your search by entering more particular phrases, such as "Christmas lights in San Diego" or "holiday lights in my area."
2. Ask The Locals
To find the best Christmas light displays, you can try asking your friends, family, and colleagues for suggestions. They could propose shows based on their personal experience, or they might be aware of hidden exhibitions in the area.
3. Check Listings and Local Newspapers
If you look in the event listings or the newspapers in your region, you can find some details regarding Christmas light displays. You can look at either the digital or print versions of these publications.
4. Take a Drive Around and Search
You can go on a driving tour to see Christmas light displays in your neighborhood if you don't mind a little bit of a quest. There will likely be some stunning Christmas decorations if you visit local neighborhoods and businesses.
5. Check Organized Light Displays
Christmas light displays may be seen in several zoos and botanical gardens. There may be a small price to enter these exhibits, but they can be a great experience for the whole family.
San Diego Light Displays
Below are some light displays in San Diego.
1. The Del Mar Fairgrounds' Annual Lights of Christmas
With more than a million lights, seasonal displays, live music, a petting zoo, and seasonal treats, this event is a must-see throughout the Christmas season. For those in the San Diego area in December, visiting the Lights of Christmas at the Del Mar Fairgrounds is a must.
Attendees can stroll through a magical forest of dazzling lights, take in the sights of enormous Christmas trees and elaborate light displays, and enjoy the live seasonal music. At the market, guests may shop for one-of-a-kind wares made by local artisans, sample seasonal beverages, and nosh on delicious delicacies.
2. The Mission Bay Christmas Boat Parade
This yearly event takes place in Mission Bay and involves a procession of boats decked up in Christmas decorations.
3. Holiday of Lights at the SD County Fairgrounds
Guests may enjoy seasonal tunes, refreshments, and over 400 illuminated displays as they go through this drive-through holiday light show.
4. Winter Wonderland at the San Diego Zoo Safari Park
Over a million lights, holiday-themed animal exhibitions, and seasonal fare are just some of the highlights of this holiday celebration.
5. La Jolla Christmas Parade and Holiday Festival
Festivities at this yearly event include a parade with floats and marching bands, Christmas-themed entertainment, a lighting of the holiday tree, and a market selling seasonal treats.
Senior Helpers East San Diego
The annual Christmas light shows are a lovely tradition that enriches the lives of the elderly and their loved ones. Seniors can get out of their homes and get into the Christmas mood by walking or driving around the holiday light displays in their neighborhood. Senior Helpers East San Diego hopes that you'll take some time to visit your senior loved ones this holiday season and share with them the pleasure of a festive celebration under the glow of a holiday light display.
Contact us immediately if you or an elderly loved one in San Diego, El Cajon, La Mesa, Santee, or Lakeside needs in-home senior care.