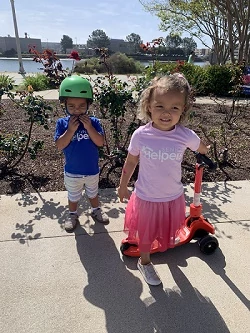 April: The WHY Behind the Work
Cassia, Mo and I recently registered for the Senior Helpers Annual Conference in September, and I couldn't be more excited by our keynote speaker – Rick Rigsby PhD.  Besides being an incredible motivational speaker and author, Rigsby's life testimony is heartwarming and triumphant.  My favorite quote from a very inspirational and very viral college graduation speech he gave is this:
"Make sure your servants' towel is bigger than your ego.  Ego is the anesthesia that deadens the pain of stupidity."
This quote hits me on so many fronts. 
Do I as an owner and physician need to be mindful of my ego?  Every waking minute and sometimes in my sleep. 
Do I have a calling to serve?  Yes. 
Do I know a thing or two about anesthesia?  Yes. 
Do I understand the pain of stupidity?  As a 44-year-old male who once ate a ball of wasabi on a dare –twice, yes I understand the pain of stupidity. 
Needless to say, I can't wait to hear him speak.
We are into the 2nd quarter of 2022 and business continues at a fast pace.  We have recently partnered with Lantern Crest Senior Living (www.lanterncrestseniorlivingsantee.com), a large independent Senior Community to provide our services to its residents.  Having met the executive team there, I can say with confidence that this place respects and honors its Seniors.  I am humbled by their mission to serve with a personal approach.  They know everyone's names, there is a lot of hugs and smiles… It's the little things that show. 
So, 2022 has started at a quick pace and continues to accelerate towards greater growth!  Can't wait for Denver in September!