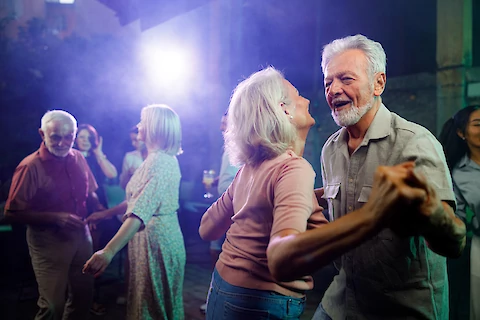 As family members age and their health changes, it's important to stay active with healthy activities that are appropriate for seniors. Exercise doesn't just help improve physical health but it benefits the heart as well. Here are a variety of fun activities that not only contribute to overall heart health in seniors but can be fun for all members of the family to do together. 
The Benefits of Heart-Friendly Activities
Physical activity helps people of all ages stay healthy, but it can be especially important for seniors, who are more susceptible to chronic health issues like heart disease and diabetes. According to the American Heart Association, physical activity can help reduce cholesterol levels, improve mental well-being, and reduce blood pressure in elderly people. Additionally, getting outside of the home each day has been linked to improved overall longevity among aging adults. 
Heart-Friendly Activities for Seniors and Their Loved Ones
There are a lot of activities that seniors and their loved ones can engage in together, keeping everyone active while providing a great source of social connection. 
Walking: Going on a daily walk can be an easy way to fit physical activity into your routine. It's also something that has been found to benefit the heart, as just 30 minutes of walking five days each week can reduce the risk of stroke in seniors. Taking a walk together can also be a great way to connect and decompress. 
Biking: This helps increase cardiovascular health while also giving you time together out in nature. For those uncertain about going on longer rides, try taking shorter trips around the neighborhood or nearby trails instead. 
Swimming or water aerobics: For those who find regular aerobic activities tough on the joints but who still want to break a sweat, swimming could be an option worth considering. Doing shallow aqua aerobics is a great low-impact exercise method that strengthens muscles and improves balance at the same time. 
Dancing: Do some research into what kind of dancing is popular among seniors in your area and jump right in. From Latin dances like Salsa or Merengue to more traditional Polkas, Waltzes, and Ballroom styles like Foxtrot, there's bound to be something suitable for everyone regardless of ability level. 
Yoga and Tai Chi: Both have been known as supportive forms of exercise for elderly people since they improve balance slowly over time without straining any body parts. They're also great for their stress-relieving capabilities.  
Senior Helpers East San Diego Can Help Provide Support for Seniors Who Need to Stay Active
Ideally, you want to engage in fun, heart-friendly activities with your senior loved ones on your own. However, if you're struggling to find the time, Senior Helpers East San Diego can help provide additional support. We can help seniors in La Mesa, San Diego, El Cajon, Santee, and Lakeside get out and stay active, which can help increase overall heart health. Contact us today to learn more about our in-home care and companionship service.