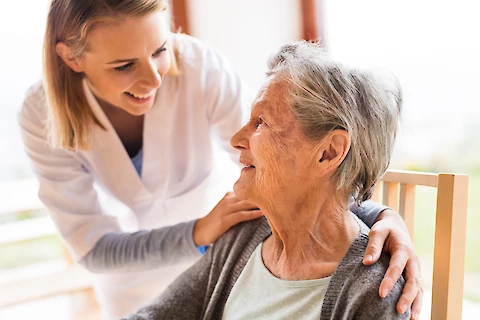 Navigating the healthcare system can be challenging, especially when it comes to advocating for the needs of our senior loved ones. As complex as the medical system may seem, it's crucial that we step up to ensure that our elders get the care they deserve. Fortunately, there are several strategies you can use to improve your advocacy for senior loved ones and ensure that they get the support they deserve.
Understanding the Need for Advocacy
The peace of mind that comes with knowing your senior family member is receiving the care they need is priceless. It's vital to get involved and stand up for their healthcare needs, ensuring that their treatments are tailored to their unique situation. 
As family caregivers, you are your loved one's most effective advocate. You know your loved one's individual needs and daily symptoms better than many of their care providers, who may not get to spend as much time with them. Furthermore, you can help your loved one communicate and provide them with the support they need to fight for assistance and care.
Researching Treatment Options
Navigating the sea of treatment options can seem daunting. However, knowledge is power. Understanding the various care options available can help you make informed decisions concerning your senior loved one's health. 
Spend some time researching online, seeking advice from healthcare professionals, or consulting with organizations that specialize in senior care to get a better idea of what options are out there for your loved one's specific condition or symptoms. 
Communicating with Healthcare Professionals
Your communication with healthcare professionals plays a key role in the care your senior receives. It's essential to ask questions, clarify doubts, and confirm information regarding your loved one's health. Remember, being assertive does not mean being aggressive. It is possible to stand firm on your loved one's needs while maintaining a respectful dialogue with healthcare providers. Don't be afraid to ask questions or, if needed, to get a second opinion from another care provider.
Comprehending Insurance Coverage
Insurance coverage for seniors can be complicated. It's important to understand what is covered and what is not, from medications and treatments to caregiver services and assistive devices. If the terms are confusing, don't hesitate to ask for help. Reach out to the insurance company for explanations or turn to professionals who can help you comprehend these details. Your loved one's insurance company can provide a detailed explanation of coverage options or help you find a provider that is covered by that network.
Organizing Medical Records
Keeping an organized file of medical records not only helps you keep track of your senior's health history, but it can also be extremely beneficial in emergencies. Include test results, medication details, doctors' notes, and any health-related documents. Digitalizing these files can make it easier to share and access whenever needed.
Assertive Yet Respectful Advocacy
Advocating for your senior loved one's healthcare needs does not mean you should steamroll over the opinions of healthcare professionals. The goal is to create a collaborative relationship that is in the best interest of your loved one. Advocate for a care plan that is aligned with their preferences, needs, and goals. Work with your loved one's care providers and keep in mind that they are also working toward the best possible outcome for your loved one.
Get More Help Caring for Senior Loved Ones
Looking after your aging loved ones is a responsibility filled with love and challenges. But remember, you are not alone in this journey. Through effective communication, organization, and a good understanding of healthcare options and insurance coverage, you can navigate this complex landscape to advocate for your senior loved one's health needs. 
If you live in La Mesa, San Diego, El Cajon, Santee, or Lakeside, and need more help providing care for your senior loved one, reach out to us at Senior Helpers East San Diego. We are here to assist you, every step of the way, from ensuring that your loved one has help with basic home care tasks to assisting in getting your loved one to medical appointments and more.