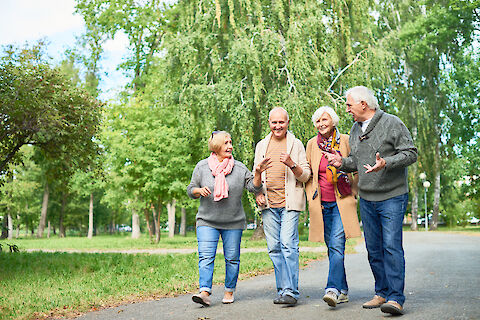 Springtime is here, and with it comes the perfect opportunity for seniors to stay active and social in the beautiful outdoors. Staying physically and mentally engaged is essential for seniors, as it promotes overall well-being. With that, here are some activities and tips to help you stay active and social while enjoying the great springtime weather.
Outdoor Activities
Getting outside can offer a number of potential health benefits. Here are some activities that you may enjoy doing.
Gardening
Gardening is a fantastic way for seniors to stay active and connect with nature during springtime. Not only does it provide numerous physical and mental health benefits, but it also offers a chance to bond with neighbors or join a local gardening club. Whether you have a green thumb or are just starting, gardening can be a fulfilling and social activity.
Walking and Hiking
One of the simplest and most effective ways to stay healthy is by walking regularly. Exploring local parks and trails can be a refreshing and invigorating way to enjoy the great outdoors. To add a social element to your walks, consider joining a walking group or participating in organized hikes.
Outdoor Exercise Classes
Low-impact exercise classes such as yoga and tai chi are perfect for seniors looking to stay fit and active. Many local parks and recreation departments offer classes specifically designed for seniors, making it easy to find a class that meets your needs and interests.
Outdoor Games and Sports
Engaging in outdoor games and sports, like bocce ball, horseshoes, or shuffleboard, can be a fun way to enjoy the warmer weather while staying active. You can also participate in local senior sports leagues, allowing you to stay in shape and make new friends in the process.
Indoor Activities
While many seniors are eager to get outside, others may prefer indoor-oriented activities. Fortunately, many social clubs and organizations start to open back up or get into the normal swing of things as spring rolls around. 
Book Clubs
Joining a book club is an excellent way for you to engage in stimulating conversations and make new friends who share your love of reading. Check your local library or bookstore for existing clubs, or consider starting one with your friends or neighbors.
Cooking Classes
Learning new recipes and cooking techniques can be both enjoyable and rewarding for seniors. Check local cooking schools and community centers for class offerings, where you can expand your culinary horizons while making new acquaintances.
Arts and Crafts Classes
Indulge your creative side by participating in art and craft classes such as painting, pottery, or knitting. Local art centers and community centers often offer classes tailored to seniors, making it a great opportunity to learn new skills and meet like-minded individuals.
Dance Classes
Dance classes, such as ballroom or line dancing, are a fun and social way for seniors to stay active and agile. Many local dance studios offer senior-specific classes, ensuring participants feel comfortable and supported while learning new dance moves.
Get Help for a Loved One Who Needs More Assistance Being Active
Are you struggling to find a way to engage in more indoor, outdoor, or social activities this spring? Senior Helpers East San Diego offers caregiving services for seniors living in La Mesa, San Diego, El Cajon, Santee, and Lakeside. Contact us to learn more about how our caregivers can help encourage more activity and make it easier for seniors to stay involved, participate in new hobbies, and more.