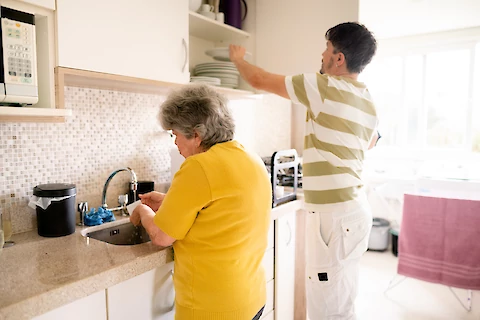 Top 5 Instrumental Activities of Daily Living (IADLs) Aging Relatives Need Help With
The Instrumental Activities of Daily Living (IADLs) are the "activities that allow an individual to live independently in a community," according to the NIH. These activities include cooking, cleaning, laundry, managing finances, and transportation. There are some IADLs that seniors often have trouble doing on their own though, sometimes impeding their ability to live on their own. Fortunately, Senior Helpers of Fresno has compiled a list and how relatives can help their senior loved ones with these IADLs. 
1. Transportation
As people age, a big concern can be worsening eyesight, which often impairs a person's ability to drive. This may not be true for everyone, or at least can take a long time for some people to experience, but it can become a huge problem at times. Seniors still need to go to the grocery store, doctor appointments, or anywhere else a person could want or need to go. If you have a senior loved one who has issues getting where they need to go, you can help out by offering rides to appointments or to stores, as well as by running simple errands. 
2. Cleaning
Mobility is a problem for some seniors as they get older. Pain due to mobility issues can cause a senior loved one to neglect to keep their home clean on their own. You can help out a senior loved one by doing some housework for them so they don't have to worry about it. A dirty home can affect mental and physical health, so a home must stay clean. 
3. Managing Finances
While some seniors are great at staying on top of their finances, this isn't true for everyone. Many seniors may have trouble with managing finances due to worsening eyesight, mental state, and/or memory. Something you can do to help out a senior loved one that has trouble managing finances is to sit down with them and come up with a budget, as well as have access to their bank account so you and your senior loved one are always aware of how much money is available.
4. Telephone
Phones have become more advanced over the years, and this is hard for some seniors to keep up with. Smartphones can be hard to learn to use, so a relative can always help out by making sure a senior loved one knows how to operate their phone. Make sure they have all the necessary contacts in case of an emergency and that they know how to access/call them.
5. Cooking
It's important to make sure your senior loved one is eating enough and that the food they eat is nutritious. Whether this means cooking a meal or helping your senior loved one out with groceries entirely depends on the situation. 
Get Assistance with IADLs from Senior Helpers of Fresno
If you or a senior loved one are in need of in-home care to help with IADLs and other necessities or activities in Fresno, Clovis, Hanford, Visalia, or Tulare, contact us at Senior Helpers of Fresno today. We're happy to assist with both chores and hobbies, as well as provide needed companionship for seniors.