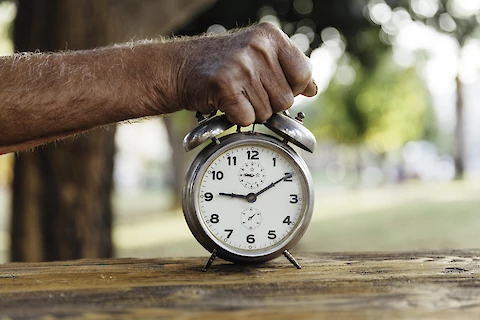 What many of us view as a minor inconvenience can be entirely disorienting for seniors with dementia. Daylight Savings Time (DST) requires the clocks to be set forward an hour, which further exacerbates confusion among seniors. The time change may require additional effort when providing care for those suffering from dementia or challenges of the mind. 
Why Daylight Savings Is So Disorienting
During DST changes, clocks and watches need to be moved ahead. One of the most significant issues for those with dementia can be mentally reconciling that an hour was skipped or changed. Multiple clocks throughout a home present challenges when some are not adjusted at the same time. This displacement of time can make it harder for seniors to follow schedules, leading to confusion and anxiety during activities they anticipated earlier in the day but are now late on. Getting into the car and seeing an hour sooner on the clock may also cause problems. 
Speaking of the car, transportation disruptions may also occur. Say your senior relative expected a ride to an appointment. If the driver didn't change their clock, they may show up an entire hour late. This can be quite upsetting for anyone, let alone a person with dementia. 
Additionally, medication taken at different times could lead to adverse effects. Your loved one may require one or more of their pills with a meal. Because the time is suddenly different than the day before, they may not be ready to eat when the time for medication arrives. Or, the opposite could be true. They're now hungry, yet it isn't time for their medication. All of these confusing challenges can be a lot to take in. 
Strategies For Minimizing The Effects
There are several strategies you can employ to help minimize the disorienting effects of the time change for your elderly relative. 
Establish A Bedtime Routine
Creating a sleep routine for your loved one can help them understand the changes in time. Consistent nighttime preparation should include all activities that lead up to the bed, like reading, brushing teeth, and changing clothes. Incorporate relaxing activities in the evenings as well so they are ready when it is time for lights-out. 
Keep The Room Bright
The days after Daylight Savings Time may be darker than they anticipated due to the loss of an hour of light at sunrise. Keeping blinds open during those days after DST can help keep things bright. Adding nightlights around doorways and corners of furniture can also provide increased visibility without compromising safety.
Use Digital Clocks That Change Automatically 
Having digital clocks throughout the home makes it easier to work out the situation. You won't have to deal with repeatedly resetting analog watches or wall-mounted tickers each time the time changes. Many phones and computer systems change automatically based on their programming. Your loved one may wake up and see the time and not even realize anything is different. 
Get Plenty Of Sunlight During The Day    
Your loved one should still head to bed at the same time. However, there may now be more light than usual since the clock was set ahead an hour. Make sure your senior relative gets plenty of sunlight during the day and enjoys the outdoors. Doing this will make it easier to drift off come bedtime, no matter what the sky looks like. 
Connect With Senior Helpers Fresno
If you have an elderly relative in the Visalia, Fresno, Clovis or Tulare area who struggles with dementia, Daylight Savings Time can be especially hard to handle. If you are looking for professional assistance at home for your loved one, Senior Helpers Fresno offers excellent caregiving services that provide support and peace of mind during this difficult time. To learn more, contact us today.