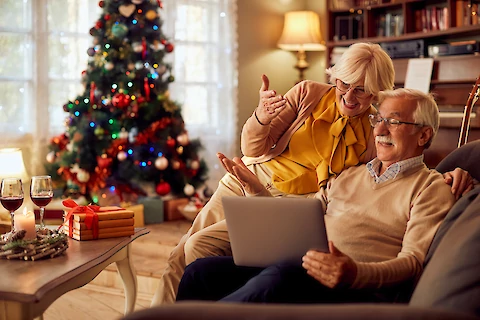 What to Do If You Can't Visit Your Elderly Parents This Holiday Season
One of the best parts of the holiday season is connecting with family and friends, reminiscing about days gone by, and making plans for future events. However, those who are struggling with changing schedules over the holidays, whether due to school schedules or distance, might not be able to travel to make those extra visits to elderly parents. While you might be concerned about how your parents will handle the news, there are some ways to make things a bit more bearable for senior loved ones. Here are some ways to be conscientious of your elderly parents this holiday season when you can't see them in person, courtesy of Senior Helpers Central Texas.
Let Your Parents Know Your Plans Early
When you know that you won't be able to visit your elderly parents in person, try to make them aware as quickly as possible. The extra time will help your senior loved one to process any tough feelings that they might have about this, and also allow them to make other plans, if necessary. Of course, it isn't always possible to plan ahead. If you are dealing with a sudden illness or COVID-19 diagnosis, you will have to make adjustments on the fly. Just keep your parents in the loop and you will be able to avoid hard feelings down the road.
Share Lots of Photos
Even if you can't be with your elderly parents physically, show them you are thinking of them by sending lots of pictures of yourself, your children, or any family pets that you may have. Talking and laughing over family photos is a great bonding exercise. Photos also make great holiday gifts, so consider printing and framing a particularly charming picture for your senior loved one.
Make Time for Phone and Video Calls
Try to schedule extra phone calls with your senior loved one during the holiday season. This additional effort will go a long way towards showing them that they are in your thoughts, even when you can't physically be there. Video calls are even better, allowing you to socialize and visit no matter where you happen to be. Consider planning a video call during a special family activity, such as baking cookies or opening presents, so that your elderly parent can be included in the joy of the moment.
Senior Helpers Can Assist Seniors in Creating Magical Moments
The holidays can be a time of uncertainty for senior adults, especially if they aren't able to visit with their loved ones in person. However, by making a few simple additions to your schedule, you'll be able to ensure that your elderly parents have a joyous holiday season, even if you can't all celebrate together. Senior Helpers Central Texas is dedicated to keeping senior adults happy and content, through personalized caregiving services that are tailored to suit every senior's unique needs. Contact us today to learn more about the caregiving services we offer to seniors in and around the Austin, Round Rock, Pflugerville, Cedar Park, Georgetown, and Lakeway areas.