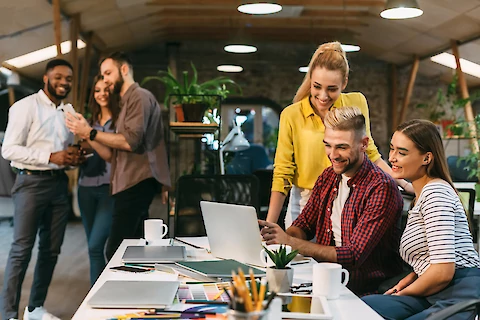 What Do Millennials Look for in the Workplace?
In 2016, Millennials became the largest generation currently in the United States labor force. Millennials, also known as Generation Y, represent anyone born between 1981 and 1996. Over the past ten years there have been countless discussions and studies made around the work ethic and over all workplace experience for millennials.  
At Senior Helpers, it is important to us that our employees feel empowered to be a part of a team where their work is not "just a job." We believe that our work at Senior Helpers has purpose, which is also what many millennials look for in their careers. As the top national homecare organization ranked on the Best Workplaces for Millennials™ 2022, below are few of the characteristics we believe millennials value in the workplace.  
Work-life balance 
Millennials may be feeling torn between leading a successful and fulfilling life at work while also finding fulfilment in their personal lives. Because of this, millennials are more likely to find a company whose core values reflect their own. Whether it is through your company's core values, flexible work options, or overall company culture; acknowledging the need for work-life balance can help millennials experience a more beneficial workplace.  
Doing something with purpose 
Whether their efforts provide a direct impact to their community or to their teammates, understanding the purpose and value in their work is important to millennials. This generation does not find fulfillment in a job where they feel like they are there just to clock-in and do busy work. Millennials want to see that their creative solutions are meaningful to their company's objectives.  
Technology 
Millennials are known as the first generation to be fully emersed with technology from adolescence into adulthood. This generation has an intuitive knowledge of technology which contributes to their openness and adaptability to change. Millennials are used to and may even expect technological change over time. Making sure your company is staying up to date with the most relevant technology in your industry can be key in keeping your employees engaged.  
Transparent communication & management 
Traditional annual or biannual performance reviews may not be enough for millennials. This generation values transparent and clear guidelines from management with more frequent input. This does not mean looking over your employees' shoulder to make sure they are doing their job. It may look more like bi-weekly or monthly check-ins to offer advice or support with the task at hand. By recognizing their work, millennials will feel appreciated in knowing that their work is making a difference.  
Senior Helpers is proud to be acknowledged on Fortune's Best Workplaces for Millennials™ 2022 and Great Place to Work Certified® for the fourth year in a row. Our mission is to provide compassionate care and improve the quality of life for our clients, their families, and our employees. Ninety-three percent of Senior Helpers employees reported, "When I look at what we accomplish, I feel a sense of pride." Interested in joining Senior Helpers? Visit our website to apply today!