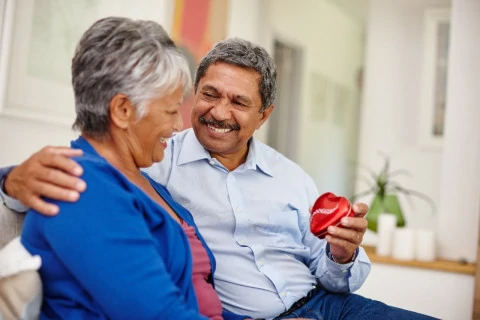 Valentine's Day is right around the corner and it could be looking a little bit different for you this year. No matter if you are with your loved ones or separated from them, we can all celebrate the holiday in our own unique way. Senior Helpers would like to share a few wellness-boosting activities you can participate in on this upcoming Valentine's Day!
Exercise your Heart!
Take the time this Valentine's Day to get out and move! It is very important as we age to keep our bodies and minds feeling their best. Try a virtual fitness class; this could include yoga, zumba, or pilates. Yoga has been called one of the best forms of exercise for older adults. It offers a relaxing way to let go of the tension you are holding in your body, especially in your shoulders and upper back. If you are looking for an alternative to a fitness class, try going out to enjoy a nice walk to get your body moving. It is ideal for older adults to get at least 150 minutes of exercise per week!
Watch a Romantic Comedy or a Romance Movie!
Experts say that movie therapy can help manage emotions, increase motivation, and enhance self-esteem. So, take the time to check our Hulu, Netflix, and HBO's plentiful options of feel-good movie options about love this Valentine's Day!
Some movies to watch include:
●        Love Actually
●        50 First Dates
●        When Harry Met Sally
●        The Notebook
●        Grease
●        Titanic
●        A Walk to Remember
Engage your Mind with a Valentine's Day Puzzle!
If completing puzzles is your thing, go out and get a Valentine's day puzzle. You can order these online or search free puzzles on the internet. There are lots of Valentine-themed word searches and sudoku puzzles that can easily be downloaded to your computer or tablet and printed out! Amazon has a wide selection of puzzles catered to seniors, that help boost your cognitive skills.
Make a Valentine's Day Sweet Treat!
Treat yourself to a Valentine's dessert this year! Try baking something new that you have always wanted to try or just enjoy a classic sweet you know you will enjoy; almost any treat can be made into the shape of a heart for Valentine's Day! Baking is a great way to keep yourself busy and can be shared with many!
Here are some healthy baking tips:
●        Use whole wheat flour instead of all-purpose flour
●        Use applesauce instead of oil or butter
●        Use two egg whites instead of one whole egg
Send a Loved One a Card or Floral Arrangement!
This Valentine's Day we might not be able to see all our Valentines like years past, but that should not stop you from celebrating them! Write them a sweet note on a Valentine's themed card; a personal message can go a long way when telling someone you care for them. You can also go above and beyond by delivering flowers or arrangements to their house on February 14th.
Even though we might be physically distanced from our loved ones this year, take the time to tell someone how much they mean to you!