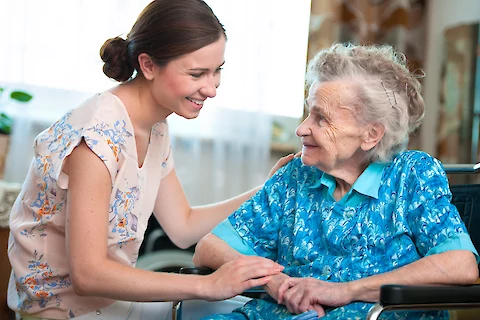 The decision around home care for an aging loved one is important and can be challenging for those involved. The process of beginning homecare can feel intimidating and unfamiliar. However, it's important to make sure the transition is as seamless as possible. Consider the tips below to help ease your aging loved one into home care.  
Ensure Independence  
One of the first things that may come to mind for your loved one when the topic of in-home care is brought up, is the misconception that they will lose their independence and control over their own decisions. It is important to reassure your loved one that this is far from the reality of home care. Home care with Senior Helpers, is designed to make sure your aging loved one is safe and comfortable and able to remain independent in their own home for as long as possible. When introducing senior care to your loved one, be sure to keep them involved with the decisions.  
Communicate All Expectations  
Home care looks different for everyone. Many people find that with the proper education and safety measures, they may not need as much assistance as they originally thought. As your aging loved one's needs change, their level of care changes with them. Senior Helpers provides specialized care, no matter the type of care your loved one requires.  
Educate your loved one on the benefits of homecare and be patient with their emotions. Create space for your loved one to ask questions and express any concerns regarding their care plan. Allow them to share any boundaries that they may have. Encourage them to take their time and have them write out a list if necessary.  
Highlight the Positives  
Creating a routine can be helpful for both your aging loved one and their caregiver during the transition to in-home care. Routines can help to provide comfort and autonomy for your aging loved one. If they do not already have one, communicate with them to find a routine that best fits their interests.  
Having a caregiver can relieve a lot of the day-to-day responsibility for family members. Make it a point to still visit them regularly. With the help of their caregiver, your visits with them can now be focused on quality time.  
Remind your aging loved one that their caregiver is there to support them with their daily needs. This can include companionship, meal preparation, transportation assistance to do any activities they haven't done in a while or completing daily tasks around the house.  
Talk with their Care Team Together 
When meeting with your potential care team, make sure to involve your loved one in the conversation. Be certain to let them know in advance of any visitors who may be entering their home. Encourage your loved one to take the lead with any questions that may help them to feel more comfortable and in-control.  And most of all, remember to be patient as this is a huge change for them.  
Whether your loved one is expecting minimal care in the home or around the clock care, Senior Helpers is here to help. Since 2002, Senior Helpers has been a national leader in professional, in-home senior assistance services. With a vision to help seniors remain in their homes despite age-related illnesses and mobility challenges, we have now cared for tens of thousands of seniors. If you or an aging loved one are considering home care, contact us for more information.