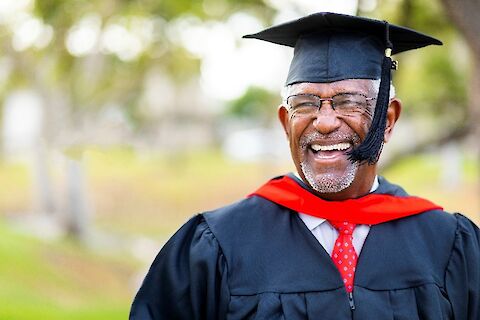 The Benefits of Life-Long Learning for Seniors
When one door closes another door opens. There are many new opportunities that arise once you enter retirement. Seniors have a newfound freedom that gives them the chance to pursue goals that were not feasible during their younger years. They no longer worry about deadlines, work schedules and using their small amount of free time to get other tasks done. Retirement is the best time to pick up a new hobby, experience new places, and best of all, continue to learn and pursue new opportunities! 
Therefore, a lot of seniors, recently retired or not, have considered continuing their education and returning to school. Going back to school allows seniors to take advantage of numerous benefits that their pre-retirement life did not provide. Others may simply choose to continue their education for the love of learning and stimulating their brain. Some of the back-to-school benefits seniors enjoy can include: 
Socialization Opportunities 
Seniors can get back into their community and meet new people once they join a university or community college. They'll have the opportunity to meet and interact with fellow peers and professors while having access to a community with events, clubs, support groups and more! 
Keeping their Skills Up to Date 
The world is an ever-evolving place, which provides great opportunities to learn something new. Learning in the classroom can help them learn the skills they need to keep advancing their knowledge and refine the skills they already have.  
Cognitive Health 
Studies show that lifelong learning can be vital to reducing the risk of cognitive decline as seniors age. Continued education provides a sense of purpose and self-efficacy that preserves cognitive function. Preserving cognitive function can ward off early cognitive declines including Alzheimer's disease and other forms of dementia. New brain growth is still possible for seniors well into their elder years! 
Going back to school for seniors has numerous benefits, socially and mentally, and now as a senior student they can also receive financial benefits. Many colleges and universities offer free or low-cost education to seniors who are considering continuing their education. There are many opportunities for seniors to save money while pursuing their education including audit classes for free or minimum fee, senior citizen tuition-waivers, online courses, and more!  
If you notice your elder loved one has already begun to develop signs of cognitive decline and may need assistance in taking care of themselves, consider in-home care with Senior Helpers. We will work with you to create a customized home care plan that changes as your loved one's needs change. Our care team has extensive training and experience in providing the right level of individual care and support, while carefully monitoring everything from medication to daily activities. Visit our website to learn more about our Alzheimer's & Dementia Care Services today!