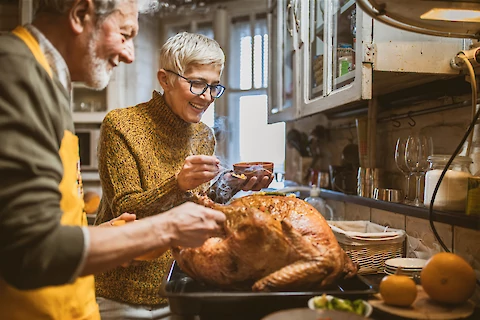 Tasty Dishes to Make for Thanksgiving
Thanksgiving is one of the biggest cooking holidays of the year, and big holidays come with big expectations. This is the meal everyone looks forward to all year. So, if you are hosting or supplying the food for your Thanksgiving gathering, you're going to want to make sure you impress your guests! We've compiled some of the tastiest recipes from tried-and true Thanksgiving staples to out-of-the-box ideas:
Chipotle Citrus Turkey
Season your Thanksgiving turkey this year with chopped chipotle peppers, herbs, and fresh orange and lime. This Mexican-inspired turkey is a unique take on the usual Thanksgiving turkey seasoning that will spice up your dinner table.
Sausage and Herb Stuffing
This fun take on stuffing features traditional savory flavors with a sweet twist by adding Granny Smith apples- it is sure to leave your guests begging for more!
Mascarpone Mashed Potatoes
This mashed potato recipe will get you the fluffiest and tastiest mashed potatoes you've ever served at Thanksgiving dinner.  The creator of this recipe, Gaby Dalkin, is a food blogger who raises Alzheimer's awareness and encourages families facing Alzheimer's to focus on spending quality time together this holiday season.
Baked Mac and Cheese
Mac and cheese is always a fan favorite at the table, make sure you have the best mac and cheese this year with this outrageously cheesy recipe!
Roasted Pumpkin and Goat Cheese Crostini
These elegant crostini are the perfect fall themed appetizers that will set the tone for the rest of your amazing Thanksgiving spread!
Pumpkin Pie Bars
Pumpkin pie bars are a fun and easier take on the traditional pie and still pack a flavorful punch!
Salted Caramel–Chocolate Tart
This recipe is for all the chocolate lovers at the dinner table this year. This tart is next level delicious and makes for a great Thanksgiving dessert!
These amazing Thanksgiving dishes will be the star of the dinner table this holiday, but aside from the big meal, remember what Thanksgiving is really for, which is gathering with family and loved ones. This year could be the first time you are seeing a lot of your loved ones in a while, especially those who are elderly. If you feel a senior in your family may have developed the need for an in-home caregiver, Senior Helpers has a lot of services and resources to offer. Senior Helpers provides companion care, personal care, Parkinson's care, chronic disease care, and so much more while allowing your loved one to remain in their home and maintain their independence. Visit our website to learn more and to find the closest Senior Helpers location to you!