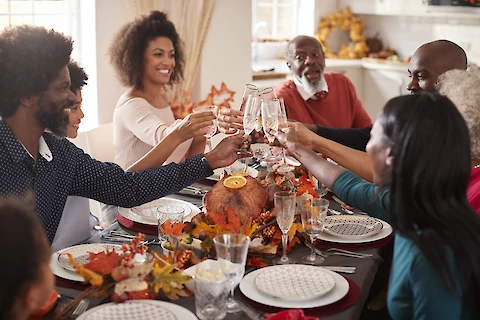 Taking Care of Loved Ones During the Upcoming Holiday Season
Thanksgiving and other holiday events are right around the corner, which means spending time with friends and family, enjoying home-cooked meals, and reminiscing about previous times spent together. Caring for a family member takes compassion, commitment, and teamwork, especially during the holidays. Senior Helpers has a few tips on caring for loved ones during the holiday season to help provide a positive experience.
Ensure that the environment is safe and comforting.
Many loved ones may feel out of place as they travel to homes they are unfamiliar with. Seniors face the risk of tripping or falling, especially in spaces that may not be optimized to reduce those risks. Before visiting, take the time to discuss concerns and ask for preparation for elderly family members.
Seniors with dementia and Alzheimer's disease can also get confused or lost when in a different space. To ensure your loved ones are safe, consider taking turns watching out for them to give everyone a chance to enjoy the festivities and protect your loved ones.
Be considerate and patient.
During the holidays, many seniors can feel overwhelmed with all the events going on and may not know how to express their feelings It is always good to ask how your elderly loved ones are feeling throughout their visit to make sure that they are comfortable and not feeling tired or overwhelmed from the extra activity and socializing.
Talking about past memories, organizing old photos, and even including them in the meal preparation can help them feel comforted. Making new traditions can also help to create a new atmosphere in which your senior loved ones can feel relaxed and involved.
Consider hiring a professional caregiver to help at home.
Having professional caregivers care for your loved ones in the comfort of their own home can help relieve stress and allow them to age in place safely. It can be hard balancing work, life, and caring for parents, especially during the holidays when there are many responsibilities during this demanding time. Caregivers are trained to follow a care plan, supply companionship, make meals, and more to help seniors on a day-to-day basis or regular check-ins.
Senior Helpers caregivers provide exemplary care to help seniors remain in their homes despite age-related illnesses and mobility challenges. We hire professional, compassionate, service-oriented individuals to provide the highest level of care to our clients and their families. By choosing Senior Helpers for a loved one, you're not just getting exceptional care, but you're gaining a genuine, in-home connection designed to give them the absolute best quality of life. For more information on getting your loved ones the care they need, visit our website to find the closest location to you.