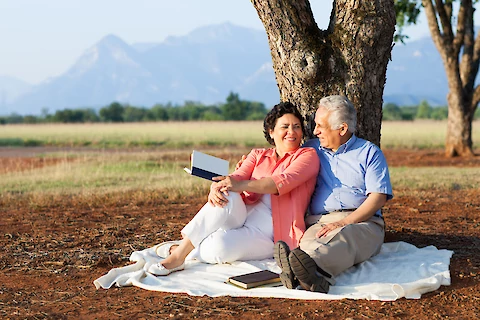 Summer Reading Done Right
Summer is the perfect time to sit outside and enjoy a good book. Whether you are at the beach, on the water, or just in your backyard, reading can be very relaxing. Escape reality and step into the realm of literature. Senior Helpers wants to share a roundup of recommended books and best sellers to add to your list.  
The Other Black Girl by Zakiya Dalila Harris
                A dynamic thriller about workplace mistreatment and manipulation. Twenty-six-year-old editorial assistant Nella Rogers experiences racist remarks and privilege. This book has been described as The Devil Wears Prada meets Get Out.
Seven Days in June by Tia Williams
                After one crazy week spent together 15 years ago, Eva and Shane reconnect at a literary event. Over the next seven days, answers are given, passion is ignited, and there might be a second chance for love.
People We Meet on Vacation by Emily Henry
                Rom-Com fans will swoon over this book. The New York Times bestselling author wrote this book to be funny, emotional, romantic, and thought-provoking. Poppy and Alex have been best friends for years except for the past two. Poppy has one week on vacation to rekindle their friendship and leave everything out on the table.
The Guncle by Steven Rowley
                Gay uncle Patrick had to take in his niece and nephew when tragedy struck. His lifestyle does not necessarily suit a six- and a nine-year-old. The Guncle is a moving tribute to the power of love, patience, and family in even the most trying times.
Our Woman in Moscow by Beatriz Williams
                A profound human story of Cold War espionage and family devotion. A sister's race toward safety from behind the Iron Curtain after vanishing for four years. Heartbreak, life-changing decisions, and suspense of the Cold War is what you will find in this read.
The Most Beautiful Girl in Cuba by Chanel Cleeton
                Grace Harrington lands a job at Hearst's newspaper and a story emerging from Cuba changes her life. Unjustly imprisoned Evangelina becomes the face for Cuban independence, American intervention, and war. Three women risk everything for revolution.
On Juneteenth by Annette Gordon-Reed
                Told by a Pulitzer Prize-winning historian and Texas native, this story provides a historian's view of the country's long road to Juneteenth. From reconstruction through Jim Crow and so on, this is a precise and clear presentation of history.
Ethel Rosenberg: An American Tragedy by Anne Sebba
                A moving biography of Ethel Rosenberg, the wife and mother whose execution for espionage-related crimes defined the Cold War and horrified the world.
A book can provide company and comfort much like Senior Helpers Companion Care. Our companion care service options are flexible and customizable according to your specific situation, and as part of our personalized approach, we customize a care plan to match your needs. Check it out here: https://www.seniorhelpers.com/services/companion-care/
Sources Linked:
https://www.barnesandnoble.com/b/summer-reading/_/N-2m39
https://shereads.com/best-summer-beach-reads-2021/
https://www.nytimes.com/2021/05/19/books/summer-books.html
https://www.beyondthebookends.com/ultimate-beach-reads-2021/
https://www.oprahdaily.com/entertainment/books/g26765235/best-beach-reads/