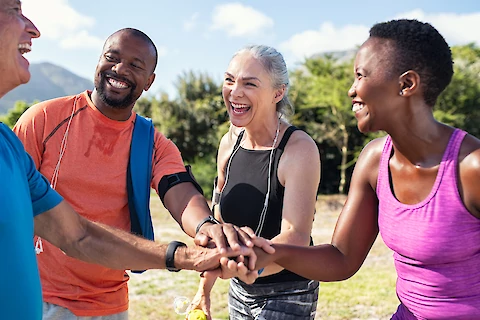 Sticking to Your New Year's Resolutions
As we enter 2022, there is a powerful momentum of hope, prosperity, and opportunities. Take time to set healthy expectations for yourself by looking at what is important to you and your loved ones this year. Some healthy goals may include improving your emotional or physical health, and even stimulating your brain with new activities. A significant part of setting resolutions is identifying what goals you want to achieve and ensuring that you are on the right path to achieve them.
Ideas for New Year's Resolutions
Some popular goals include exercising your brain daily, building a better budget, cooking something new every week, preparing healthy meals, exploring new hobbies, and doing random acts of kindness. Individuals of all ages can create goals for themselves to generate new opportunities for growth and good fortune.
Ways to Stick to Your Goals
Creating and implementing a resolution plan can seem daunting, but it is helpful to focus on picking just one resolution until you are ready to expand into other resolutions. Limiting resolutions will help you commit to achieving one rather than dividing your energy and falling short on multiple goals set. Writing out a detailed plan can also help you see what steps you need to take to satisfy your resolution and what tactics you may need to use if you run into obstacles. 
A significant role in the resolution process is reflecting on what's important to you and being realistic in terms of what you can achieve. This doesn't mean that you can't have a big stretch goal but trying to take too big a step too fast can leave you frustrated. Make sure to review past resolutions and evaluate if they were unrealistic or just unreachable. Consider adjusting the resolution or look at different approaches to form a better plan to achieve it this year. Your goals don't have to be life-changing and small steps can easily lead to success, happiness, and good health. If you're planning to explore new hobbies, search for one that interests you and take a class!. If you want to do healthy meal prepping, you can start with your current meals and research healthier, easier and more budget-friendly options as a starting point.
How Senior Helpers Can Support You
At Senior Helpers, it is our goal and a resolution we keep each year, to help your loved one live comfortably at home. We provide exemplary care at a moment's notice to allow seniors to stay in their homes as they age and help maintain their independence. Our caregivers are trained to help your loved ones with companionship, meal prepping, housekeeping, exercising, and more to allow them to achieve their own resolutions and age happily. If you're interested in Senior Helpers in-home care services for your elderly loved ones, visit our website here.