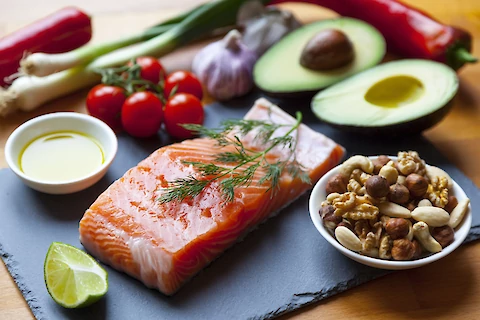 The Middle Eastern diet falls under the category of a Mediterranean diet. The Mediterranean diet has been praised for its role in keeping the body healthy and decreasing chances of developing chronic diseases, especially cardiovascular issues. This diet consists of vegetables, whole grains, fruits, nuts, seeds and seafood, which studies have shown consuming in healthy proportions can decrease the chances of heart attack and stroke. Following the Mediterranean diet is also a way to decrease the chances of developing type 2 diabetes. As we age, including healthier food choices can promote healthy aging and better living. 
Middle Eastern dishes are easy to prepare. The recipes include lean proteins, healthy fats, vegetables, and grains which are all beneficial to a healthy diet. Senior Helpers supports including healthier food options in your daily diet. Here are a few quick, delicious, and nutritious Middle Eastern Dishes you can enjoy adding to your plate!
Batata Harra (Spicy Middle Eastern Roasted Potatoes)
Ingredients
        1 pound Idaho® Yukon Gold  potatoes unpeeled
1 tablespoon olive oil
1 tablespoon sunflower oil
3 large garlic cloves peeled, crushed and minced
1 teaspoon harissa
1/2 teaspoon red chile flakes
1/4 teaspoon freshly ground pepper
1 red pepper seeded and chopped into 1/2-inch pieces
1/4 cup chopped cilantro
Grated zest of 1 lemon plus 1 tablespoon lemon juice
Instructions
Heat oven to 450 degrees F. Wash and cut potatoes into 1-inch cubes. Bring a pot of salted water to a boil, add the potatoes and cook for three minutes. Drain in a colander. Return the pot to the stove over a low flame. Add potatoes back to the pot in two batches to cook off any remaining moisture, stirring so the potatoes do not stick. Transfer to a bowl.
Combine the two oils, 1/2 teaspoon of harissa and ground pepper, and drizzle over the potatoes. Stir gently to coat the potatoes. Line a rimmed baking sheet with tin foil, spread the potatoes in a single layer. Put them in the oven to roast and, after 10 minutes, stir in the garlic, remaining 1/2 teaspoon of harissa, chili flakes, red bell pepper and half of the cilantro.
Return to the oven for another 20 minutes, until the potatoes are tender and nicely browned. Stir once halfway through the cooking. Remove the potatoes from the oven and transfer to a large bowl. Stir in the lemon zest and lemon juice.
Serve warm or at room temperature, adding the remaining cilantro just before serving.
Shish Taouk (Spiced Chicken Kebabs with Garlic Yogurt Sauce)
Ingredients
10 cloves garlic, mashed into a paste
1⁄2 cup lemon juice
1⁄4 cup olive oil
2 tablespoons. Aleppo pepper
1 tablespoon ground cumin
1 tablespoon. ground coriander
1⁄2 tablespoon dried mint leaves
Kosher salt and freshly ground black pepper, to taste
1-pound boneless, skinless chicken thighs, cut into 2" pieces
1 cup plain yogurt
10 fresh mint leaves, finely chopped
Instructions
Combine half the garlic, ⅓ cup juice, 2 tbsp. oil, 1½ tbsp. Aleppo pepper, cumin, coriander, dried mint, salt, and pepper in a bowl; add chicken, and toss to coat. Chill for 2 hours.

Build a medium-hot fire in a charcoal grill.

Skewer chicken on about eight 10" wooden skewers; grill, turning, until   chicken is cooked through and slightly charred, 10–12 minutes.

Mix yogurt, fresh mint, remaining garlic, juice, oil, and Aleppo in a bowl; serve alongside skewers.
Recipe References
https://shescookin.com/spicy-middle-eastern-roasted-potatoes-battata-harra/
https://www.saveur.com/article/Recipes/Chicken-Kebabs-Garlic-Yogurt/?V6CqUmxYxsFSlrjO.32