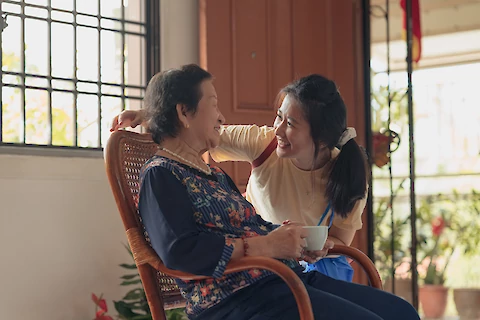 Self-Care Tips for Caregivers
Caregiving is not always an easy job. Whether you are providing care for a loved one in need or as it is your professional career, much of your time is spent thinking of others. As a caregiver, putting your own needs on the backburner may seem necessary in order to provide efficient, quality care. In the long run though, putting yourself last can cause burnout, fatigue and more.
While it may seem like an overwhelming task to approach, it is important to remember the negative health effects that may occur if you do not check in with yourself. Below are a few ways caregivers can take care of themselves while taking care of others!
Don't overload your daily to-do list. When you feel responsible for the health & wellbeing of another person, it can be easy to feel like you must make sure everything is perfect all the time. Understanding that no one is "perfect" is the first step to relieving the pressure that may come with caregiving. If you are constantly worried and overloading your tasks, you may never realize that you aren't putting your best effort into each task. Finding ways to reduce your load by prioritizing your work will benefit you personally and professionally in the quality of care that you are able to provide.
Set goals. Setting goals in general can help you stay present in what needs to be done to accomplish your goal. Without goals, caregivers can find themselves feeling like they are running a rat race, with no end in sight. Whether they are personal or pertaining to caregiving, setting goals, and writing them out can reduce the stress of day-to-day life.
Personal goals can include establishing a good sleep routine, scheduling time to be physically active, planning out meals ahead of time and setting reminders to take breaks.
Caregivers can set goals by establishing a daily/weekly routine with your client, creating meal plans that they enjoy, or writing out each task that needs to be done instead of keeping a mental note.
Seek social support. If you are a family caregiver, your support group may be of other friends or family members who have an idea of what you are experiencing. If you are an employed caregiver, seeking the support or advice of your office staff may be helpful if you are experiencing difficulties at work. As a caregiver, you are often seen as the person others can lean on, but it is key to remember that everyone can benefit from the support of their community. Having others to talk through problems can give you the refresh that you may not have known you needed.
Accept help. Overtime you may find that your workload is more than you can handle alone. If you are caring for a loved one, this may be a sign to start having a conversation with your other family members to consider dividing responsibilities. If you feel like you have exhausted all your options, it might be time to consider an in-home caregiving service such as Senior Helpers.
Having a professional caregiver does not have to mean that you are no longer the primary caregiver for your loved one. You may even find that having a caregiver has enabled you to enjoy quality time with your loved one much more. Our respite care services can provide you with the time to rest, re-focus, and care for your responsibilities outside of your family. At Senior Helpers, our caregivers are trained to provide customized services to meet any of their needs, all done from wherever they may call home. We're giving better peace of mind for them. And you.