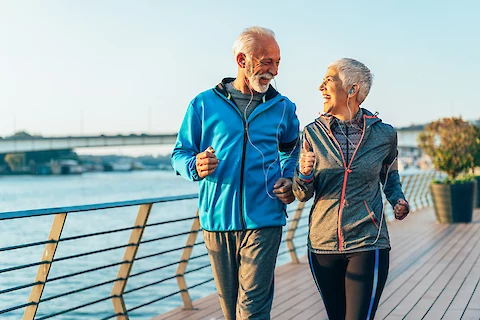 Prescription-Free Ways to Help Symptoms of Parkinson's disease
A Parkinson's disease (PD) diagnosis can come with unanswered questions. It can be challenging to decide what may be next for you and/or your loved ones. While there is no standard treatment for PD patients, there are several different options to explore.
Although there is no cure to PD, there are many treatment options to ease the symptoms associated with Parkinson's. The most common treatments for PD can include a variety of medications prescribed by your doctor, surgical procedures, and lifestyle modifications. It is important to speak with a doctor or medical professional to determine which treatment option(s) may be best for you.
In honor of Parkinson's Awareness month, we are sharing our guide to Prescription-Free Ways to Help Symptoms of Parkinson's Disease.
Exercise
Exercise has health benefits for everyone. Regular physical activity plays an essential role in maintaining and improving your health. While anyone can benefit from exercise, there are a variety of options to choose from. Exercise is not a "one size fits all" category, so it is important to try different methods to learn what works best for you.
Tai Chi is an ancient Chinese tradition, which is practiced today as a gentle form of exercise. In a 2012 study, the benefits of tai chi performed consistently better in comparison to resistance-training and stretching. It has been shown to improve balance, strength, and physical function and to prevent falls in older adults and those with mild-to-moderate PD.
Non-contact boxing inspired fitness can help to build strength, flexibility, and speed, and ultimately can improve the ability of people with Parkinson's to live independent lives. Rock Steady Boxing is a 501 (c)(3) nonprofit organization that gives people with Parkinson's disease hope by improving their quality of life through a non-contact boxing-based fitness curriculum.
Acupuncture
Acupuncture is a treatment involves the insertion of very thin needles through your skin at strategic points on your body. It is used to stimulate the central nervous system which can promote physical and emotional well-being by stimulating the body's natural healing abilities. Acupuncture can be a very helpful complementary treatment for those living with PD. In a 2017 study, acupuncture as a supportive treatment was effective in relieving PD symptoms in comparison to no treatment and conventional treatment alone.
Singing
Speech difficulties are quite common for those living with PD. Singing may be a beneficial treatment for those with voice, respiratory and swallow impairments. While it is a topic that is still being researched, some studies suggest that singing may provide benefits that go beyond respiratory impairments, such as the reduction of stress and improved motor function. Consulting with a speech-language pathologist can be helpful in navigating the diverse options for speech-therapy.
Pet Therapy
Pet therapy is a broad term that can be used to describe animal-assisted therapy (AAT) or animal-assisted activities (AAA). While the two are similar, AAT is a formal, structured method of therapy that is used to reach specific goals in treatment. AAA is a general, more casual interaction, with an animal and its handler, and is typically used for comfort or recreational purposes. Pet therapy can be used in many ways to improve a person's mental and physical health.
The physical activity that comes with dog ownership has shown to be an effective nonpharmaceutical treatment of Parkinson's disease. Service dogs especially, can provide confidence to move around safely and without injury which can help improve physical and psychological aspects of the disease.
These are just a few examples of the many options for those living with Parkinson's disease. It is always vital to consult with a doctor or medical professional, before making lifestyle modifications that can impact the symptoms of PD.
Parkinson's is a progressive condition, which means your loved one's care needs will change as the disease advances. At Senior Helpers, our caregivers are provided with expert training and education in Parkinson's disease care. Our goal is to be a trusted, integral part of your support network. We will work with your family and medical team to provide care for the symptoms of Parkinson's disease to help your loved one remain comfortable and as independently as possible. If you or a loved one are wondering where to get started, contact Senior Helpers or visit our website to learn more.