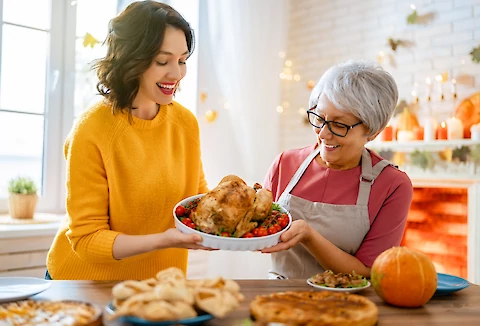 Preparing for Thanksgiving with Seniors
Thanksgiving is an exciting holiday for everyone to look forward to. It's the time of year where friends and family gather to share a large meal and give thanks. Everyone, from the youngest to oldest, takes time to visit and reconnect with each other. It is often one of the only times of the year you can see all your loved ones together.  
However, planning for the festivities can also bring stress and new challenges. Family members, especially those who are the primary caregiver, understand the importance of ensuring senior loved ones are included in the celebrations. Preparing for Thanksgiving with aging loved ones may present new challenges but incorporating a few of the tips below may make celebrating a little bit easier.  
Be Mindful of Health and Dietary Needs 
A Thanksgiving meal typically includes very dense and rich food. As much as we all love and look forward to these options, they may not be the best options for your aging loved ones. As you age, your health needs change, which in turn affects your diet. Being mindful of what and when your loved one can eat can help them feel included and reduce any overwhelming feelings.  
Include Your Loved Ones   
There is a lot of preparation that goes into Thanksgiving festivities. Whether it is setting the table, preparing a menu, or decorating, try to include your loved one as much as possible. If you have specific traditions for giving thanks, maintaining them may give your aging loved one a sense of belonging and family identity. This is especially true for those living with Alzheimer's or dementia as it can bring them a sense of familiarity.  
Transportation and Location 
Determining the location for the festivities is one of the most important factors. Even if they are no longer able to plan and prepare for the holiday, hosting the event may be the best option for them. If your aging loved one is unable to host the holiday, it may be helpful to consider transportation assistance.  
Don't Overdo It – Ask for help  
Planning for the holidays can be overwhelming for anybody. Be realistic with your expectations of yourself and your loved ones. Make sure there are opportunities for you to step away if needed. Communicate with your friends or family members to share the responsibilities of taking care of the senior in your life.  
Thanksgiving is a special time of year for families to spend quality time with their loved ones. Reconnecting and making new memories shouldn't be a stressful time. Whether you are looking for help with transportation, activities, or preparation, Senior Helpers is here to help. No matter the type of care your loved one requires, Senior Helpers provides the perfect services for any of their needs, all done from home. We're giving better peace of mind for them. And you.