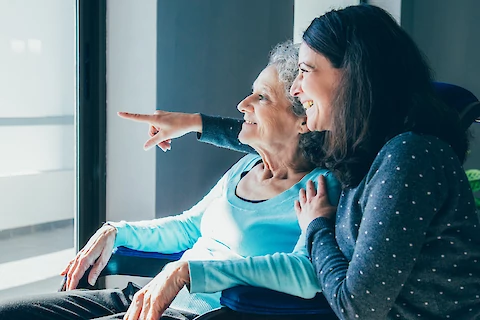 Preparing for End-of-Life Care with Your Aging Loved One
The process of end-of-life care is an emotionally and physically difficult time for all involved. Considering the prospect of death and all its moving parts with an aging loved one can be overwhelming. You may never feel prepared enough to make life-altering decisions regarding the health and wellbeing of a loved one. However, there are several practical steps that may help alleviate some anxiety and frustration as you make challenging end-of-life decisions.  
Stay Informed 
After a terminal diagnosis, even the simplest decisions can be difficult. Understanding the different options for treatment and care can aid in the decision-making process. Take the time to digest all the information that is being handed to you. Researching your options for service in your area will help you prepare for the conversations ahead. Keep notes of what you learn and ask questions if needed.  
Keep Open Communication 
There is no "right time" to share life-changing news. Start conversations with your aging loved one and those closest to them as early as possible. Having these hard conversations can give clarity in deciding what type of end-of-life care they may be comfortable with. Keeping these conversations ongoing is just as important, as their needs may change based on their prognosis.  
Communicate with Healthcare Professionals 
Doctors and other healthcare professionals are available to provide you with helpful knowledge of treatment options. Communication with your loved one's care team is essential. Be willing to initiate conversations with healthcare professionals and ask questions regarding the needs of your loved one. It may be helpful to bring along a family member or friend who can assist with communicating and taking notes. 
Prepare and Organize Legal Documents for the Future 
Your loved one may already have an established legal plan in place. However, it may be helpful for them to review their plan and make necessary updates. Understanding your loved one's wishes for when they may no longer be able to make decisions themselves is an essential part of end-of-life care.  
Prepare a Space in the Home  
Take the time to prepare the home for your loved one and their caregiver. Providing care and comfort for your loved one may change as their health conditions progress. Be mindful of what you can do to make their environment more comfortable, with lighting (natural or artificial), temperature, and cleanliness.  
Preparing for end-of-life care with an aging loved one is no easy feat. Fortunately, there are many resources, organizations, and people that can assist in improving the quality of life and care for your aging loved one.  Senior Helpers caregivers work closely with you to help keep your loved one as comfortable as possible as they make this transition. We will be there to support you and your family so that you can focus on spending quality time and make the most of the remaining time with your loved one during their final days. To help you find the right services for your loved one, we invite you to contact us today to schedule an in-person meeting.