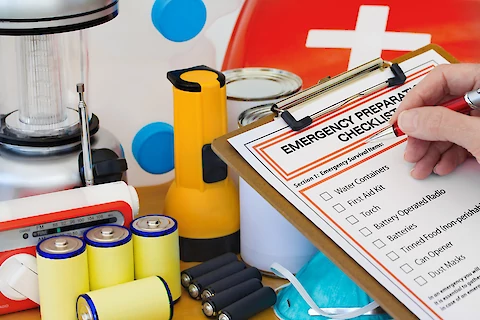 Preparing for a Natural Disaster with Older Adults
Depending on where you live, natural disasters may affect you in different ways. From floods, tornados, hurricanes, forest-fires and more. It is important to be mindful of how each of these may affect you and your loved ones.  
Preparing ahead to the best of your ability, will help you in the event of any emergency. If you have an older adult in your life, near or far, it is important to make sure they have a plan as well.  
Know the risks  
Know the risks the people in your life could face and stay informed. This will help in preparation of the natural disaster. Stay informed with your local news outlets of what areas may be most affected and what the timeline for severe weather may be. If your loved one is in another community, you can still receive alerts from different news sources to be on the lookout for their area. The more you understand the risks of what is to come, the more you will be able to prepare for it.  
Gather Supplies  
If you have been checking the news, you may be aware of when the storm may affect you and for how long. A good rule of thumb is to have enough supplies for you and your loved ones to last 72 hours. If you live in an area that is typically affected by natural disasters each season, it may be best to prepare your supply kit in advance so that you can be prepared in case of emergency. 
When packing for an older adult, it is especially important to make sure you are traveling with all their necessities. Some of which may include medicine, a walker, oxygen tank, and more. Be mindful of dietary restrictions they may have and pack accordingly. To learn more about what you may need to prepare for visit Build A Kit | Ready.gov.  
Stay connected  
During an emergency, it can be difficult to stay connected and informed with everyone. Create a communication plan, ahead of time to avoid confusion and additional stress.  
Talk to your neighbors. In the event of a family member or friend getting lost, it may be helpful to have a central meeting point for during and after the storm hits. Even if you and your neighbors do not decide to take shelter in the same location, it is helpful to exchange information, house keys, and location in case of emergency.  
Plan for technological losses. There is always a chance that you may lose power for a couple hours and even a couple of days. Carry physical copies of important information such as medical information, emergency contact information, emergency shelter/rescue information and more. If possible, use an emergency weather radio to stay connected with what is going on in your community. 
Know where shelters are. Whether you choose to seek shelter in a locally regulated facility or not, knowing where they are located can be extremely helpful. Local shelters may provide food and medical assistance if needed. Make sure that your friends and loved ones know where their local shelters are so that you are all on the same page.  
Preparing for a natural disaster can be scary and overwhelming. Planning and preparing for what's to come can help ease the stress in case of emergency. Having a plan to keep the older adults in your life safe, can be done with the help of a professional caregiver. Older adults can be especially vulnerable in case of natural disasters and emergencies. Keeping a record of important documents and an organized emergency plan, will provide a sense of safety for you and your loved ones. Learn more about how Senior Helpers can help you and the seniors in your life, contact us.