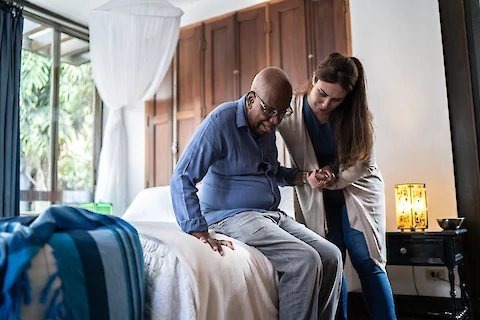 National Home Care and Hospice Month: Professional In-Home Care for Your Loved Ones
November is National Home Care and Hospice Month to recognize and honor the nurses, home care aides, therapists, and social workers who have made a difference in patients' lives. With 3 out of 4 seniors ages 50 and older wanting to stay in their homes, more people than ever want to age in place at home, despite changes in health or mobility rather than going to a nursing facility. This month we want to recognize the dedication of providers in these fields and ask you to join us in celebrating caregivers and home health aides this month.
Caregivers play a crucial role in our health care system and homes across the nation by providing an essential service to people in their community. Home care can provide peace of mind for patients and their families while relieving the stresses involved with aging. Services include companionship, surgery assistance, chronic disease support, and personal care.
Benefits of having a home care professional looking after your loved ones:
Reduces re-hospitalizations
Easier for family and friends to visit than in a nursing home with restricted hours
Tailored to the specific needs of each senior
Maintain your relationship with your loved one while they're being cared for
Keeps them in their home where they are comfortable and familiar with surroundings
Allows freedom and independence
More affordable for most people than a nursing facility
Alleviate feeling stretched thin between work, family, and other personal obligations
Reduces the risk of infections or diseases
Home health care specialists can help individuals adapt to their homes and adjust to their changing needs as they age. Many home care organizations offer a variety of services to give seniors the help they need. Senior Helpers provides flexible and customizable service options that ensure quality and personalized care for each individual. We only hire professional, compassionate, and service-oriented individuals to provide the highest level of care to clients.
At Senior Helpers, we have unique brand offerings and differentiators that make our position in the home care industry one of the strongest. We have a revolutionary assessment tool, LIFE Profile, that combines today's technology with 15 years of research to provide the most thorough and accurate personalized care plan for our clients. Senior Helpers is also known for our distinguished signature care programs, Senior Gems® and Parkinson's Care. These programs provide caregivers with the training and tools they need to deliver the right level of care for seniors who have Alzheimer's, dementia, and Parkinson's.
If you're looking for a reliable and worthy home care organization that you can depend on, then look no further. Visit our website today to find a location near you and get your loved ones the care they deserve.