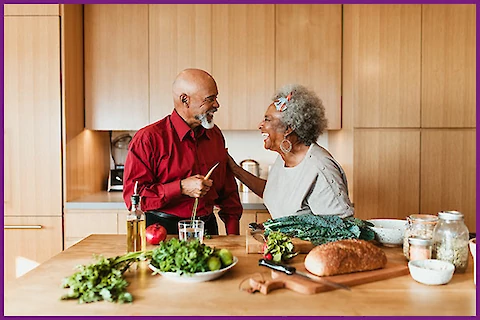 Meal Prepping Promotes Well-Balanced Diets and Healthy Portion Control for Seniors

Weekly meal prep has been proven to be an efficient and beneficial part of an effective weekly routine to help keep individuals on track with healthy eating. Meal prepping is a concept of preparing 2-3 complete meals ahead of time for the week. Doing so allows you to have more free time during the week to focus on other things that are important to you. Meal prepping also contributes to staying on top of portion control and nutrition goals. Your senior loved one may not currently be taking advantage of meal planning, but there are ways we can help!
HOW SENIOR HELPERS CAN ASSIST YOU
Senior Helpers provides a host of care services to seniors nationwide. Planning meals and creating grocery lists ahead of time cuts down unplanned trips to the grocery store. And when it comes to your loved one's health, our caregivers will do everything they can to help them to stay motivated and confident in being independent.
CAREGIVERS QUICKGUIDE FOR MEAL PREPPING WITH SENIORS
1. Planning
Before you can have an effective meal prepping system, you must plan it out. Select a day to plan meals for the upcoming week. Take this time to create a grocery list of items needed for success! After meals are planned, decide what day each meal will be consumed.
2. Preparation
When balancing a job, potentially children in school and caring for a loved one, it is a golden rule to prepare all meals on Sunday; that way Monday is smooth sailing. However, you may find that another day in the week works just as well for you and your schedule- consistency is key to success! When preparing meals, be mindful of your senior's specific dietary requirements, portion sizes and meal variety. One of the most recognized challenges with meal prep is not having a balanced variety of complete meals for the week. Eating the same meal day after day, can be boring, so finding ways to easily swap out the protein or veggies in a recipe can help add variety and keep meal prep fun.
3. Execution
Lastly, having the proper food storage containers on hand is important. Be sure you have containers that will fit complete meals inside. It is easier to remain consistent when your meals can be quickly re-heated or taken to go.. After everything is prepared, place food into containers and your senior is set for the next 7 days with delicious meals that support a healthy and nutritious lifestyle!
To learn more about Senior Helpers In-Home Care services, contact us today for more information.