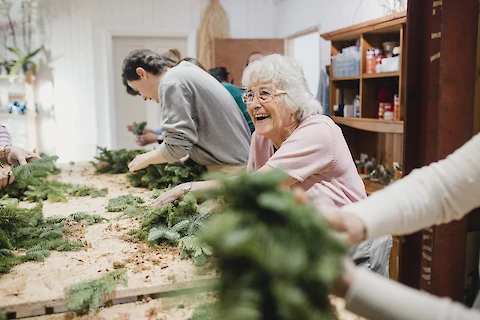 Spreading joy, celebrating traditions, and spending quality time with loved ones are some of the best parts of the holiday season. Decorations are often a large part of the celebration, but they may become hazardous to your aging loved ones. As they age, your loved ones may not be as mobile or strong as they once were. While it may be one of their favorite activities, decorating their home alone can be a major safety hazard. This holiday season, be mindful to minimize falls and other injury while decorating.  
Below are common décor items that may increase risks of falls, fires, or other safety hazards:  
Lights and other Hanging Decor 
As winter brings in longer nights, many of us look forward to the warmth and light that Christmas décor adds. Stringing lights onto roofline or other hard to reach places can be extremely dangerous. Using a ladder may be more harmful than helpful. Asking for help or hiring assistance for your aging loved ones can prevent the risk of falls. Lights can also be very disorienting for those living with Alzheimer's or dementia. Avoid using flashing, twinkling, or animated lights to prevent disorientation and possible injury.  
Christmas Trees and Gifts  
Real Christmas trees can become a fire hazard as they may be overwhelming for seniors to maintain. Fake Christmas trees can be reused for many years and come in varying sizes for convenience. It is often the tradition to store gifts underneath the tree. However, this may create risk for trips and falls. Store gifts away from any high traffic walkways. Consider the weight of gifts and whether your aging loved one will be able to safely manage it. Additionally, shatter proof ornaments can help to prevent falls and further injury.   
Floor decorations – trains, rugs, etc.  
Floor decorations such as trains, rugs and other knickknacks can be a fun addition to the holidays. However, they can significantly increase your risk for falls. All décor should be placed out of any major walkways. When assembling, be mindful to leave room for walkers and the amount of people you may be having over during the holidays.  
Fire Hazards 
Tissue paper, lights, and candles are just a few of the most common flammable items in holiday décor. Always make sure to follow manufacturer instructions for use to prevent fires. Inspect light strands for any damage and replace any faulty parts if needed. If you prefer a real tree, be sure to water it daily as dry trees are highly flammable.  
Decorating for the holidays is part of family tradition. Maintaining a safe environment for you and your loved ones doesn't mean that the decorations come to an end. Senior Helpers can help to minimize safety risks and enhance quality of life. Our LIFE Profile assessment uses research-based strategies to lower your senior's risk of an unsafe occurrence or hospitalization by over 70%. Enjoy the holidays this year in a safe and festive environment. Contact us to learn more about how we can help you and your loved ones celebrate with ease.