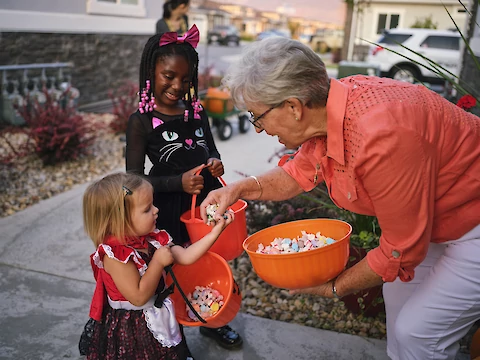 Fun and Safe Ways to Celebrate Halloween
Looking for fun and unique ways to celebrate the spookiest holiday of the year? Halloween is one day in the year where people can express their creativity by dressing up in costumes, decorating and carving amazing pumpkins. So, embrace the fall weather and stock up on your favorite Halloween candy.
Here are our top activities for you to do on this mysterious day:
1. Decorate your home.
The perfect decorations include pumpkins, cauldrons, and skeletons that create an eerie setting to keep guests on their toes.
2. DIY costumes of your favorite characters for yourself and your pets.
Making your own costume will show off your best artistic skills and save you money.
3. Go trick-or-treating with your grandchildren, children or nieces and nephews.
Trick-or-treating is what Halloween is known for so make sure to load up your bag with the best candy on the block!
4. Get lost in a corn maze with friends.
Corn mazes present the perfect opportunity for you to discover your inner navigation skills to help you solve complex layouts.
5. Carve a pumpkin or two.
Pumpkin carving is a staple for Halloween and the chance to show off your creative design skills. Check out this blog with carving stencils!
6. Cook up some delicious caramel apples or pumpkin pie.
Halloween and the fall season are known for caramel and pumpkin, so take advantage of these delicious ingredients and whip up a tasty dish. Here are some recipes to make for the holiday!
7. Visit a haunted house online or in-person.
Visiting a haunted house or forest will show who can withstand the terrifying haunts waiting for you around the corner.
There are plenty of fun things to do as a family this holiday while staying safe. It's also important to consider lower-risk Halloween activities if you or a family member have underlying health issues or challenges.
Luckily for you and your family, Senior Helpers has all the resources and services your loved one could ever need – for Halloween and beyond – in the comfort of their own home. No matter how you choose to celebrate this year, make sure you are participating in events that encourage social distancing and safety precautions. Our aging-in-place support services include companion care, Parkinson's care, wellness watch, respite care, and personal care. Senior Helpers is committed to providing your loved ones with the best in-home care while maintaining their independence. For more information, visit our website to find our closest Senior Helpers location to you.