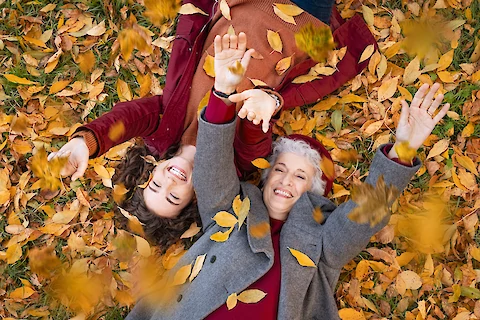 Fall Activities You Can Do with Your Senior Loved One
This year, the autumn equinox lands on Thursday, September 22, which marks the first official day of fall. Depending on where you are in the country or world, fall can look and feel different. If you are in the United States, there are a few common themes you will find throughout the country to solidify the cozy feel of fall.
Whether it is picking or decorating pumpkins, celebrating Halloween, or making your family's famous apple pie, there are several activities that you and your loved ones can enjoy together. As you age, the ability to participate in activities changes, but this does not mean that you are no longer able to enjoy them. Modifying activities to best fit the abilities of your senior loved one can be a great way to enhance everyone's experience.
Get Outside
Fall is the best time for seniors to get outside. As we move into the later months of the year, the temperature begins to drop, making this a more suitable time for seniors to spend time outdoors. While the risk of dehydration is much lower, this may also be a great time to appreciate the last few days of summer and anticipate the fall foliage. Spending time outdoors does not always have to mean staying active. The temperate weather may bring the opportunity to take indoor activities outside. Some of which may including reading, crafts, movie nights and more.
Get Festive
Start thinking ahead to October and November, for all the holiday activities you can take part in. This may be the perfect time to begin decorating your home with your favorite fall décor.  Caregivers and loved ones can take part in making sure the decorations are exactly where the senior wants them to be. Decorating or carving pumpkins can be a great activity for the whole family to enjoy together.
Get Involved in the Community
Fall can be one of the best times of the year to become involved with your community. There may be many new opportunities to begin volunteering in the community as it is the start of a new school year. Another way to support your local community is to support local festivals. With the start of a new season, comes seasonal flowers, fruit and more! Keeping your senior loved one in the loop with local events can help them feel more present in their community and give them more to look forward to.
Get Creative
September is a transitional month for many people in the United States. It signifies the end of summer, the beginning of a new school year, and many new opportunities. While there may not be a significant change to your senior loved one's life this fall, there is always the opportunity to create one. Whether it is looking for new end-of-year wardrobe or starting a brand-new hobby, change can be fun and exciting at any age.
Aging is often associated with disinterest and motivation, but this is not inevitable! Working within the parameters of each senior's needs and wants will most likely result in more time spent engaged in the activity. At Senior Helpers, our caregivers provide exceptional care with a genuine, in-home connection designed to give your loved one the absolute best quality of life. If you are looking for activities to do with your loved one or help around the house, we are here to help. Contact us to learn more!