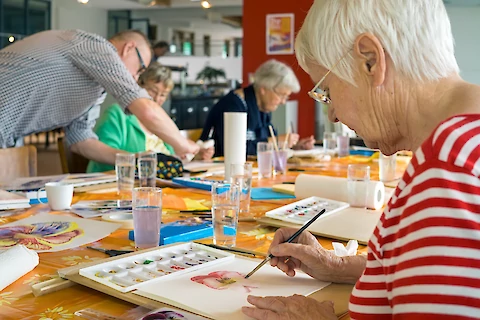 Engaging Activities for those Living with Dementia
Having hobbies & doing activities can help decrease stress and engage in things that you genuinely enjoy.  A diagnosis of dementia or other brain related illnesses can affect what your hobbies may be. Although there are many things that change, this should not mean the end to hobbies & activities all together.
Participating in activities that your loved one enjoys can help improve their quality of life and manage behavior changes that may come as the disease progresses. Not only is it important to keep in mind what they like to do, but what they can do, what they want to do in the moment, and what they are able to do.
Activities You Can Do at Home
Staying in the comfort of their home may be what's best for your loved one in the moment. There are still many activities at home that you can modify to keep your loved one engaged.
Encourage self-expression and creativity through arts and crafts, such as painting or drawing.
Take a trip down memory lane. Watch an old show/movie they used to love or look through old photos together and make a scrapbook.
Learn how to knit or crochet together.
Garden or water any indoor plants you may have.
Bake or cook simple recipes together.
Learn more about the adapting activities for people with Alzheimer's disease.
Activities to Get Outside
Outdoor activities can often be more physically challenging. It's important to be mindful of the limitations your loved one may be facing and plan accordingly.
Take a walk. Whether it's a quick walk down the driveway or around the neighborhood, walking can be very beneficial for mood and energy levels.
Sit in nature to enjoy the weather, seasonal foliage changes or even to watch or feed the birds.
If your loved one is up for it, find a local water aerobics class that may be more suitable for their current mobility.
Plan for the next trip to the store or casual outing you may be thinking of.
Learn more about staying active with Alzheimer's disease.
Keep it Simple
For any activity, remember that there should not be pressure to do or complete tasks. The goal should be to find simple ways to keep your loved one or client engaged. Regardless of the activity you may be engaging in, try to be patient with yourself and your loved one.
At Senior Helpers we specialize in providing premier in-home senior care, with locations across the country. We offer a wide array of care options to help seniors age in the comfort of their own homes. Our caregivers are expertly trained to help assess and provide care for seniors with Alzheimer's and dementia through our Senior Gems® program. Contact us to learn more.