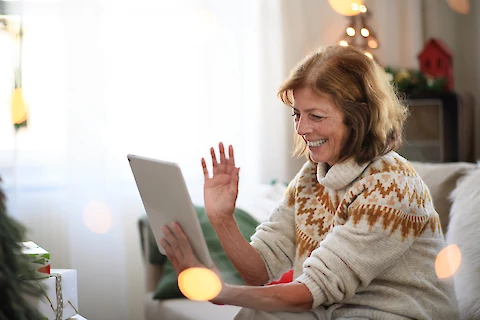 Brighten the Holidays for Lonely Seniors
As the holiday season begins, we are reminded that many seniors may feel lonely during this time. According to the National Institute of Mental Health, socially isolated older adults are at higher risk for depression. Studies have shown that feelings of loneliness come with health consequences, and interaction with others is crucial to positive emotional health. Feelings of isolation and sadness can become more pronounced around the holidays given the emphasis on celebrating with friends and family. It is important to be supportive of and attentive to the elderly population to help fill their holidays with joy. Use these ideas to brighten up a lonely senior's holiday season!
Adopt a Senior
There are currently over 3 million seniors living in nursing homes, and approximately 50% of those seniors have no family or friends who visit them. Many programs nationally and locally will allow you and your family to essentially "adopt" one of those seniors for the holidays. By adopting a senior, you will be able to donate gifts and personal cards to a lonely senior that will brighten their holiday season and remind them that they have not been forgotten. Some of the best programs to join this holiday season are the Adopt a Senior Organization and the Be a Santa to a Senior program.  
Prioritize Communication
There is nothing like an in-person visit from family, but if you are unable to visit elderly loved ones this holiday season, a call or a video chat can lift their spirits. Make sure they know that they are loved and missed dearly to truly brighten their day and make them feel as if they are still able to be a part of the holiday festivities.
Send Gifts and Cards
Make sure the senior loved ones in your life feel the holiday spirit this year. Remind them that they are appreciated and loved by sending them holiday gifts and including them in your holiday card recipient list. Holiday cards are a great way for seniors to get up to date on family and friends' lives. Holiday gifts and care packages will really lift their spirits and bring a smile to their face!
Visit Your Senior Loved Ones - Safely
This holiday season, as opposed to last year, may be safer to visit senior loved ones in your life if the right precautions are taken. After a hard year of isolation for the older population, seeing family and friends for the holidays once again would be one of the best presents a lonely senior could receive. But it is imperative that this is done safely to ensure you and your elderly loved ones remain healthy for the new year.
One of the best gifts you can give a senior in your life this holiday season is the gift that makes a difference. If your loved one needs exceptional in-home care for any of their needs, then our Senior Helpers team will be there to provide services and assistance to help them stay in their home safely. Learn more about our specialized care services and find the closest Senior Helpers location to you when you visit our website!