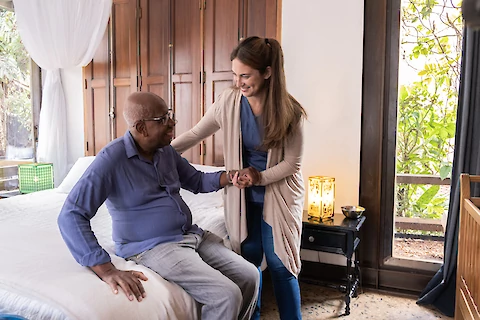 5 Ways to Support a Loved One Living with Parkinson's Disease
The uncertainty that comes with a diagnosis of Parkinson's disease (PD) can leave loved ones feeling powerless, vulnerable, or even frightened. Although you may not be experiencing the toll of the disease yourself, you are experiencing the changes that will impact your loved one firsthand. It is important to recognize that your feelings are normal, as the challenges of PD can affect all aspects of a person's life.
Your loved one may experience changes in how they move, think, interact, sleep, and express emotion as the disease progresses. They will need extra care and support as they navigate through preserving their quality of life and staying active.
Educate Yourself
Parkinson's is a complex disease. It can be just as overwhelming for you to navigate through care and best treatment options as it is for your loved ones living with the disease. Start with the basics. Understand the stages of PD and which stage your loved one is in.
Join them on one of their doctor's visits and ask questions if needed. If you are well informed, you will have a better understanding of their needs and how you can help.
There are many valuable resources to help you learn as much as you can, such as the Parkinson's Foundation.
Bring them a Sense of Normalcy
When diagnosed with a disease like Parkinson's it can be easy to get lost in the health changes and symptoms of it all. It can lead your loved one losing their sense of self.
Being honest and having open communication with each other about the difficulty that comes with a PD diagnosis can prevent the "elephant in the room" situations. In the same sense, it is important to note that not every conversation with your loved one needs to revolve around their diagnosis. Find ways to incorporate the hobbies they once loved into their new lifestyle. It may even lead to finding something entirely new to discuss, like a book or movie.
Socialize
There are many factors that may lead to a person living with PD to feel reluctant to socialize. When they are ready, show your support by encouraging your loved one to socialize with friends or family. Setting expectations and reassuring others that their loved one is still the same person, with new limitations, may increase their understanding.
There are a variety of support groups and community programs to support those living with Parkinson's disease as well as their loved ones. Do your research to find the group that works best for you or your loved one's lifestyle.
Be Adaptable
The symptoms of Parkinson's disease can fluctuate from day to day, there may even be a change in symptoms within the same day. While it is important to remain regimented and stick to a routine that best supports your loved one, it is key to be conscious that at any moment your whole day's plan may change.
Remain flexible and focus on the things that you can control in the situation. Some days, daily tasks may take much longer than it usually would—that's okay.
Be Patient & Listen
As PD progresses, your loved one's ability to walk or talk may become increasingly difficult. While a speech therapist or other medical professionals can assist in improving their abilities, remember that it still may take longer than usual. Don't rush them. Smile and listen to what they have to say. Be patient. Over time you may find that assistive walking devices or other forms of communication may be more helpful for them.
Be patient with yourself as well. You and your loved one are both trying to find balance in your new normal. It's okay to feel frustrated. Be kind to yourself and remember to find outlets that will support you. Prioritize your health and wellbeing, to prevent pouring from an empty cup. Give yourself a break and consult with professional in-home senior assistance services.
At Senior Helpers, our Parkinson's Care Program is a specialized training and certification program created in conjunction with leading experts from the Parkinson Foundation's Center of Excellence.  Our Caregivers are expertly trained in Parkinson's disease care, to ensure that we are a trusted, integral part of your support network. Visit Seniorhelpers.com to learn more today.