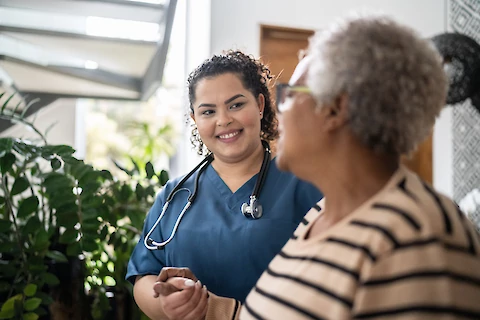 5 Life Skills that You Learn as a Caregiver
The role of a caregiver is to improve the quality of life of those you care for while helping them stay as independent as possible. Caregivers play a key role in the communities that they serve. It is an extremely rewarding career that allows you to build long-lasting and meaningful relationships with people.  
There are several skills that one learns as a caregiver that are essential in life. Here are just a few of the lifelong skills you learn in a career in caregiving. 
Patience  
The person that you care for may face varying challenges, from mental and physical difficulties. These challenges can affect their ability to communicate, complete tasks, and more. As a caregiver, you exercise patience by slowing down to work hard at communicating and providing quality care, even if you are unsure of what specific challenges you may face that day. Supporting the senior as they move at their own pace is important in helping them maintain their sense of independence.  
In any aspect of life, the ability to let go of your personal frustrations to accomplish a goal is vital.  
Empathy 
Empathy allows you to connect, understand and share the feelings of another. If you cannot understand, through empathy, what your client and their family may be going through it will be difficult to provide appropriate care for that individual. Having empathy as a caregiver makes it easier to provide genuine care and build strong relationships.  
Empathy is important when building relationships in every aspect of life.  
Communication  
Communication is a must-have skill for caregivers as they are often at the forefront of their client's life. They may also be expected to communicate any needs or concerns of their client to family, doctors, employers, and more. Keeping clear lines of communication with all members of your client's care team can avoid confusion and frustration.  
The ability to effectively communicate is one of the most important life skills. 
Problem Solving  
A large part of caregiving is understanding that things may not always go as planned. Your role as a caregiver is to adapt to your client's needs as they may change quickly. Unanticipated problems can arise at any moment which makes the ability to be flexible and identifying a solution vital.  
Effective problem-solving skills can enhance your ability to view things from different perspectives. 
Positivity  
Seniors are likely to have doubt in their abilities as they age. As a caregiver, it is important to focus on the things that your client can do. A positive attitude can uplift the spirits of your client and their loved ones. Feeling positive about your work and the tasks ahead will enhance the quality of care that you provide.  
Energy is contagious- a positive outlook is likely to influence those around you and reduce stress in your life.  
Caregiving is an enriching career that allows you to build genuine connections within your community. At Senior Helpers, our vision is to help seniors remain in their homes comfortably despite age-related illnesses and mobility challenges. 93% of our employees feel good about the ways they contribute to the community. Interested in a career in caregiving? Visit the Senior Helpers website to apply today.