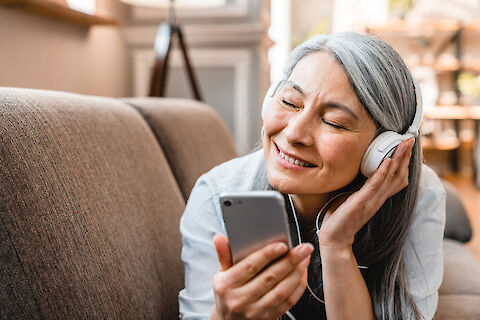 World Music Day is a global celebration that takes place every year on June 21st. It brings together music lovers from all walks of life. In fact, this special day is the perfect opportunity for seniors living at home to connect with their musical side and experience the many benefits music has to offer. 
Whether you've been a lifelong fan of a particular genre or are eager to discover something new, embracing the power of music can greatly enhance your mental health and overall well-being.
In this blog post, Senior Helpers will explore various fun and engaging ways for seniors to celebrate World Music Day from the comfort of their own homes.
Create Playlists
Creating personalized playlists is a wonderful way to bring favorite tunes together and reminisce about great memories that resonate with every song. Seniors can start by categorizing their favorite tracks by genre, era, mood, or any other theme that comes to mind. 
Exploring different genres and eras of music can also reveal hidden gems, evoke nostalgic emotions, or simply add variety to seniors' musical journey. In fact, music streaming services like Spotify and Apple Music offer a wide range of playlists and personalized recommendations. This makes it easier than ever to discover new songs and artists.
Attending Online Music Events
The rise of virtual events and concerts has made it possible to enjoy live music from the comfort of home. Websites like Songkick and Bandsintown can help seniors find upcoming online concerts and events featuring their favorite artists or new ones they'd like to explore.
To enhance seniors' virtual concert experience, consider setting up a comfortable viewing area. Connect their device to a speaker system, and invite friends or family on a video call for a shared experience. 
Have a Karaoke Session
Karaoke has long been a beloved activity for bringing people together through the power of song. Hosting a virtual karaoke session with friends and family is a great way to bond and share laughs on World Music Day. Choose a video calling platform and ensure everyone has access to the lyrics or karaoke versions of the chosen songs. To make the session even more engaging, consider having themed rounds based on certain decades, genres, or artists.
Exploring New Instruments
Learning to play an instrument fosters a deeper connection with music. It can also provide seniors with a sense of accomplishment and satisfaction. Researchage-appropriate instruments such as the piano, guitar, ukulele, or harmonica, and explore online resources for lessons and tutorials. Setting small goals and dedicating time for regular practice can be incredibly rewarding, especially when progress becomes noticeable.
Benefits of Music on Mental Health
Engaging with music as a form of therapy can strengthen seniors' mental health. It can help by improving mood, reducing stress, and offering a creative outlet for self-expression. Moreover, listening to familiar tunes or learning new instruments can boost seniors' cognitive function and memory recall. World Music Day is an ideal occasion to embrace these benefits and invite the power of music into seniors' lives.
Get Personalized Assistance From Senior Helpers
World Music Day offers a variety of opportunities for seniors living at home to engage with their musical side. This is also a great time for them to experience the benefits of music on mental health and overall well-being. 
From personalized playlists and virtual concerts to learning new instruments and reliving treasured memories, there is no shortage of ways to celebrate and enjoy this special day. To find senior care services that can support you or your loved ones with engaging activities like these, click here to find a Senior Helpers location near you.