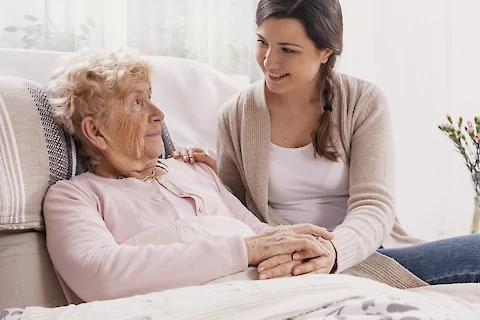 Difficult Discussions with Your Senior Loved One
Aging gracefully means more than quiet acceptance of limitations that increase with the years. It is difficult to see a parent decline in physical and mental abilities and perhaps adjust to living on less income. Even so, adult children need to assess their aging parents' ability to live safely and securely. This may require initiating difficult discussions. After these talks, and with decisions made, the entire family has greater peace of mind. Three broad topics to discuss are legal issues, level of independence, and socialization.
How To Make Seniors' Wishes Legal
Be sure your parent has a will and that you know where it is stored. Some people find it difficult to begin this conversation. If so, quote an expert such as a trusted AARP source like Sally Hurme, an AARP attorney who says, "A will is an important way you can stay in control over who gets what of your property...by planning in advance you can save your family time and money."

Without a will, everything accumulated during a parent's lifetime gets distributed according to the state's laws and by a court-appointed administrator, who is likely a stranger. Stress that your aging parent can control his asset distribution, including making special bequests of treasured items.

Along with a will, most people give power of attorney to a trusted family member or friend. This power grants the appointed person the legal right to make financial decisions and transactions if your parent becomes mentally incompetent. Appointing a health care agent, proxy, or representative is also important. The terms vary by state, but all mean that the legally appointed person has the authority to make health care decisions when a person cannot. When your parent selects this representative, have a thorough discussion about the end-of-life care your parent prefers. Care options range from letting nature take its course to using all medical resources to maintain life. Help your parent place a copy in their medical files and be sure the representative is informed of your parent's wishes.

How To Help Seniors Maintain Independence

Taking the car keys away can be a traumatic milestone of aging, so do this gently and with the advice of a medical professional. Safety concerns must overcome emotions when a person can no longer drive safely. This discussion should include alternate transportation options that can be independently initiated, giving some control back to the former driver. A local senior center can advise you on local transportation options. An Uber or Lyft account allows your senior to arrange rides independently. Many grocers and other stores offer delivery services. Consider how you can help with transportation regularly, such as rides to church and family events.

According to an AARP survey, 90 percent of seniors want to live at home instead of in a senior facility. Referred to as "aging in place," there are many resources about living at home safely while dealing with age-related limitations. You can begin with a safety audit of the house.

First, remove or modify fall hazards such as throw rugs, slippery surfaces, electrical wires, and clutter. Next, consider what home modifications will make the home safer, such as grab bars in the bathroom, a rubber mat and bathing chair in the tub or shower, and night lights. Finally, stairs are a particular concern. Be sure the railings are sturdy. If necessary, move a bedroom downstairs so your senior can live on one level. Emergency numbers in large type should be beside each phone. A medical alert bracelet will make your senior feel more secure and give you more peace of mind.

How To Keep Your Senior from Feeling Isolated
Loneliness and social isolation can be deadly for an aging parent. A University of California San Francisco study found that lonely seniors have a 60 percent higher risk of mental and physical decline and a 45 percent greater risk of death.
Discuss with your senior parent how they can enjoy a social life no matter where they are living. A local senior center will have a list of clubs and activities for seniors. Churches have programs, and so do community centers and Y's. Also, check with a local library. Encourage your seniors to explore new interests and activities and help them develop a list of resources to explore.

While sometimes difficult or awkward, these discussions help your parent lead a more rewarding life despite the limitations that come with aging. If you need assistance in planning these discussions, we are here to help you present the information in ways your senior will accept and even welcome. Be sure to make your senior an active participant in decision-making to avoid dictating their life choices or treating them like children. At all times, respect their dignity and their right to make choices.

Senior Helpers Lancaster County can assist you and your senior in discussing important legal needs. We can also help plan a lifestyle that maintains as much independence as possible and develop important social networks. Senior Helpers has a wide range of in-home services that will help your senior age in place and give you peace of mind that your loved one's daily needs are met comfortably and safely.

We are located in Lancaster County and serve families in the following towns: Ephrata, Lititz, Manheim. New Holland, and Mount Joy. We are proud to serve our veterans and are an approved vendor with Lebanon VA and Coatesville VA Medical Centers.

Please contact us for an in-home assessment or if you have questions. We look forward to working with you to give your senior a high quality of life.