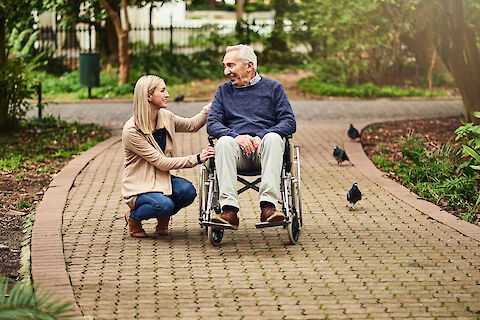 What it is Like to be an In-Home Caregiver
In the United States, about 25 percent of adults serve as caregivers to their loved ones. About 10 percent of them are caring for someone with dementia, though they may have no formal training in how to best do so. These are people with jobs, families, interests, and responsibilities outside their caregiving role, and many of them need help.
That's where professional home caregivers come in. Helping to create the best possible quality of life for someone is incredibly rewarding, and at Senior Helpers in Salem, our in-home caregivers do that every day.
Becoming a professional caregiver is an opportunity to do work that truly matters, not only to the seniors who get to age in place with dignity because of your presence, but to the family members who can rest assured their loved ones are receiving the highest level of care. 
What Do Home Caregivers Do?
Home caregivers offer personalized assistance to seniors in the comfort of their own homes. This assistance takes many forms, depending upon the needs of the individual.
At Senior Helpers, we offer everything from Alzheimer's and dementia care to companion care, which may involve running errands, caring for pets, or keeping the senior company by chatting and playing games together. There's no "typical" role as a caregiver, as each care situation is carefully tailored to the client. We'll match seniors with your area of interest and expertise. 
What Makes a Great Caregiver?
If you want to make a positive difference in people's lives, you're on the right track. Caregivers are patient, compassionate, and dedicated to helping each client live as safely and independently as possible. They enjoy building relationships with the people they work with, and they're eager to learn more and develop professionally, so they can be at their best for their clients.
Don't let a lack of experience stop you from learning more about this career. You'll receive training and experience in the caregiving roles you're ready for, and you'll be able to advance as you continue to learn. While some caregivers are pre-med students or retired nurses, many others start with nothing more than a deep desire to help others and to learn how to be an effective caregiver.
The Benefits of Being a Caregiver in Salem with Senior Helpers
We strive to create a supportive, inclusive work environment, and we were recognized as the first in-home care provider in the country to be certified as a Great Place to Work. 
As a caregiver, you receive thorough training on an ongoing basis so you feel confident in caring for others. You'll have all the tools and resources you need to build a successful career and earn professional certifications, and you'll be rewarded with a competitive employment package and wages. Caregiving offers a truly flexible lifestyle, as care is needed around the clock. Whether you prefer a live-in situation or would like to work days, evenings, nights, or weekends, we can arrange your caregiving schedule around the rest of your life.
This is more than a job—95 percent of Senior Helpers employees say their work has special meaning. Yours can, too. If you're interested in a career as a home caregiver in Salem and the surrounding area, call today at (503) 990-7112. Speak with Konni and learn more about how you can be a part of the Senior Helpers family.