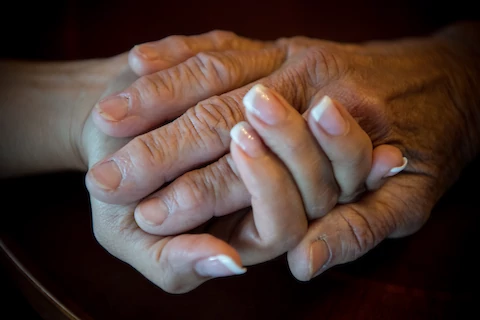 Our History
Our family owned and operated Senior Helpers office (certified and specializing in Alzheimer's and dementia care) is located at 69289 N. Main St, Richmond, Michigan (586-588-9472), opened in 2010. Since then, we have become trusted as the premier and reliable partner to assist with senior care needs. Expanding our in-home care and elderly services across the entire region, we are able to accommodate the increasing need for a higher quality home care. Our office building is in the original quaint Downtown area just north of 32 Mile Rd/Division Rd and just 6 miles west of I 94. We are on the west side of the street between Sew Together and Simmons Insurance Agency, and across the street from Chaps restaurant. And although Senior Helpers provides in-home elder care services from nearly 300 territories internationally and is one of the largest elder care providers in our industry, our certified Senior Helpers office will provide you with personalized home town service.
Just to help provide you with a little more background, our certified Senior Helpers elder care agency is a non-medical, private duty, in-home care agency specializing in Alzheimer's and dementia and is licensed for business in Michigan. We provide you and your loved one with a personalized service plan, (whether Companion care, Personal care or Memory care), and highly trained, experienced, compassionate caregivers. All of our caregivers are employees of Senior Helpers and are insured and bonded and fully screened. We perform national criminal, sex offender, and drivers license background checks and perform random drug screening. Many of our Caregivers are certified in CPR, first aid and the Heimlich maneuver; and have Hospice care assistance certification; we also have Certified Nurse's Assistants (CNA's) to provide Personal care services.
Our exclusive Senior Gems ® Alzheimer's/dementia Program, enables us to specialize in caring for those with dementia and other cognitive issues. We provide specifically trained certified Alzheimer's/dementia caregivers to our clients who need this type of care. Our Senior Gems ® Program, (the first in our industry), developed by geriatric occupational therapist, Teepa Snow, based on the Cognitive Disability Theory, continues to help more and more families help their loved ones, and themselves with understanding Alzheimer's and other types of dementia. Senior Gems ® focuses on what those with dementia can do, instead of what they cannot do and also gives our caregivers helpful knowledge and techniques to help assist our elder care clients with mobility and cognitive issues.
Senior Helpers is not limited to only elder care; our caregivers can provide care for all ages after surgery and are experienced with auto accident and worker injury, Parkinson's care, MS and stroke care. We also provide Veterans care and can help with acquiring the Aid and Attendance benefit for our Veterans.
Each year, our dedicated team of caring professionals is privileged to care for hundreds of local families. We are well-known for our work ethic, compassion, and professionalism, which have helped our staff to become the agency of choice for local hospitals, extended care facilities and healthcare professionals. Carrying some of the highest standards in the industry is a priority for us and Senior Helpers of Richmond MI has been recognized and awarded the "Best of Home Care" distinction 3 years running. We are proud to have ranked as One of the Top Home Care Agencies in North America by Home Care Pulse®, an independent customer satisfaction research firm in our industry. Yes we are proud of these honors, but it is the testimonials from families we have cared for that truly give us cause.
At Senior Helpers - Richmond, our goal is to provide you and your loved one with warm and compassionate senior care that enables our clients to live independently in the comfort of their own home. Whether the need is for a few hours or 24/7, we always provide the kind of quality and responsive care that lets them truly enjoy living at home. We provide a level of security, comfort, and professionalism to our clients that give confidence and peace of mind to them and their loved ones. We will treat you and your loved one as one of our family.
We know, caring for an aging loved one while juggling the demands of life today can be stressful and tiring for families. Although you are probably familiar with in-home care services, perhaps you are not so familiar with Senior Helpers in home care. We would like an opportunity to tell you more about how we can help and believe that the services we provide may be of great value to you and your loved one and help remove the stress and worry out of caregiving.
We invite you to call and speak with a care consultant. Call us today!