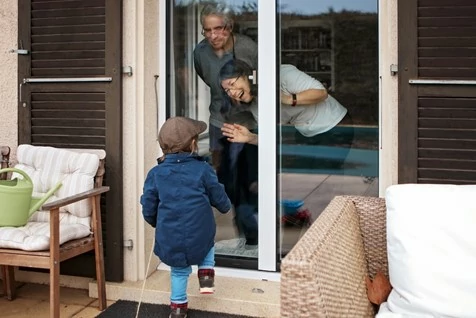 COVID-19 has certainly changed everything about everyone's life. This is especially true for those with aging parents and loved ones. Though you may want to visit them, it is important that you allow them to stay healthy by keeping your distance.
While it is incredibly difficult to keep a safe distance away, it doesn't mean that you can't stay in touch. The Senior Helpers Team serving Baltimore County, Howard County, Harford County, and Carroll County is excited to share a few tips and tricks they've picked up:
Window Visits
If you are lucky enough to live close, you can always visit them through their window and door. You may be able to talk to them on the phone while actually seeing them in person (even if you can't touch them). Actually seeing how well they are doing can give you peace of mind.
Pick up the Phone
Unfortunately, we live in a world where phone calls aren't as important as they used to be. However, you can use this time to stay in touch with your loved ones by talking on the phone on a regular basis. Set up times to spend a few minutes catching up. Indeed, it will be worth it.
Text, Text, and Text Some More
For those who are more tech-savvy, you may be able to text your parents to stay in touch. Many people enjoy texting because you can just send short messages when it is convenient to you. They will reply when it works for them, instead of having to wait until both of you are free for a phone call. Your conversation may take all day, but it might be easier to send short messages to let your parents know that you are thinking about them.
Video Calls
Video chat was important before this happened, but when COVID hit, more and more ways to video chat came out. You may decide to chat over Facebook, Google Hangouts, Zoom, or another method. Video chats are often better because you can actually see your parents while you are talking to them.
Snail Mail
Though it takes the longest to stay in touch, many people really enjoy getting mail. Whether it is a "thinking of you" card or a nice, long, handwritten letter, you can really show your parents that you care by sending them something in the mail. Additionally, if you have children, having them become penpals with their grandparents is fun for everyone.
Stay in Touch With the Seniors in Your Life
COVID-19 has really changed the way that we communicate with those that we love. This is especially true for those that are more at-risk. However, you can still stay in touch in many ways. You may be able to visit them throughout their window or doors, spend time on the phone, or even just text them throughout the day. You could also surprise them by sending them something in the mail to brighten up their day!
If you are concerned about your parents or other loved ones, don't hesitate to reach out. We would be glad to talk to you about your options so that we can come up with the perfect plan that is tailored to your (and their) needs.