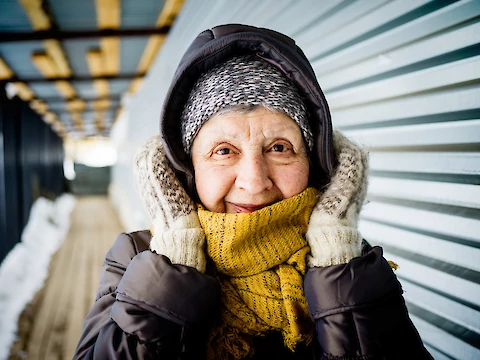 The winter months have a tendency to be a bit difficult for seniors. The cold temperatures, ice, and snow can present several challenges, making it difficult to get around and complete daily tasks. Slippery walkways and freezing temperatures can cause a wide range of illnesses and injuries for everyone. However, finding elderly care to assist seniors during the colder months can help keep them active and safe. Check out these 5 tips for preventing weather related accidents and sickness.
Dress Appropriately for Weather
Cold temperatures can lead to severe illnesses in seniors. If not dressed appropriately for freezing temperatures, seniors are susceptible to frostbite and hypothermia--this is a condition when the body temperature drops too low. To keep the body warm, it is important to dress warmly, including an extra layer of garments is always a safe precaution. The body temperature should not go below 95 degrees. Remember, body heat primarily escapes through your head and feet, so be sure to always wear a warm hat and socks.
Avoid Snow and Icy Conditions
Going out during the snow and icy conditions should be one of the last things to do on your list. There are many things that could go wrong during this time so it's best to avoid venturing out on a snowy day. Falls are common for seniors during this time, especially on icy walkways and sidewalks. If you plan on going out during a winter forecast, be sure to have as much help as possible to get you to and from your destination safely.
Fight Winter Depression
The colder months can bring with it winter depression. The weather temperatures and ability to get around because of poor road conditions often cause less contact with seniors, family and friends. This in return can make us feel isolated and lonely. Family members and friends are encouraged to reach out to their seniors more often during the winter months to make sure they're not feeling isolated. Hiring a caregiver as a companion can also help seniors tremendously during the winter months. Hiring a caregiver ensures that your loved one has a companion taking care of them even on days when you might not be able to make it.
Prepare for Power Outages
Power outages are fairly common in Massachusetts during the winter. Because of this, seniors should prepare early for outages. Gather important items such as a flashlight, cellphone, blankets, non-perishable foods, and stock them on a lower shelf for easy access. Make arrangements with a family member or neighbor ahead of time, if you plan to stay with them during an outage. When leaving home, be sure to check that all appliances and lights are turned off, just in case the power comes back on before you return.
Stick to Eating Healthy
Staying indoors during the winter months requires a variety of foods. Most people who stay inside for an extended time are at risk of having nutritional deficits such as vitamin D deficiency. To make sure your vitamin levels stay high when the temperatures are low, try to include foods that are fortified with vitamin D, such as salmon, tuna, milk and grains. To find out more about hiring a caregiver to support a senior loved one in Boston, Cambridge, Brighton, or the surrounding areas this winter, contact us.