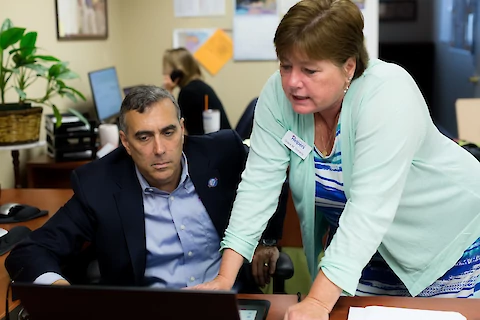 Our History
I am passionate about successful aging.
I began this journey as the founding president of my synagogue in Swampscott, MA. I saw firsthand the challenges of our aging members. In Home Care, I realized, was the most effective way to support successful aging in place.
As an agency owner and as a family caregiver I see the challenges of navigating the complex systems and providers of care. These pose a barrier for most to obtain the support they need. As a family caregiver I have witnessed and understand the difficulty and stress of this from the inside.
My agency has grown because we have a simple rule. If it is not the right answer for my parents, it is not the right answer for anyone else's parents either.
This has shaped the way we approach everything we do: from a decision to have nurse case managers, to staffing only Certified Nursing Assistants and Home Health Aides as caregivers. It has driven the introduction of our proprietary LiFE Profile, (Li=Lifestyle, F= Feasibility , E= Evaluation assessment) which assesses your individual risks, so we can partner with you and your system of care to give you the best foundation for success.
Our philosophy drove the creation of our own 75 hour Home Health Aide training program under the guidelines of the MA Home Care Aide Council. It stands behind the over 16 hours of continuing education we provide to nurses and social workers across the Boston metropolitan area. In short, while there is NO regulation of home care agencies in Massachusetts, we have sought to set our bar far higher than the standards commonly practiced in the market.
As Owner of Senior Helpers Boston and South Shore & South I have learned that caregiving in the home is made up of many moving parts.
On a macro level it requires operational discipline, attention to detail, and a broad range and assortment of talents.
On the most significant level, caregiving, requires a rare combination of passion, compassion, and acquired skills. One does not wake up one day and announce the intention to become a caregiver for a senior. Of this I am absolutely sure. There is a journey to caregiving that is as dignified and diverse as the caregivers who make it.
I believe strongly in the critical need for professional case management and strong business practices. As an employer, I do know it is the aides that are the secret sauce in supporting an elder age in place.
Today, the Senior Helpers Boston & South Shore team has grown to serve hundreds of seniors in more than 75 communities in and around the Greater Boston area. This has not been by accident, but by serving our clients and families successfully. Most importantly, it has come from sticking to our approach with intention and passion.