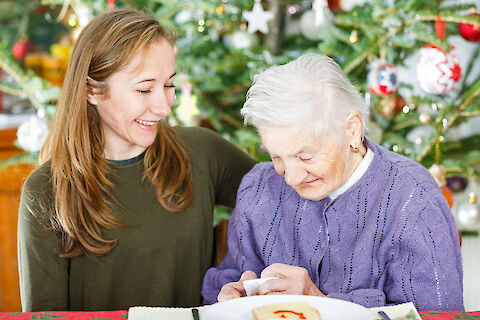 How to Help Senior Parents During Their First Holiday Season With Alzheimer's
The holidays may feel stressful to senior loved ones who are living with Alzheimer's and experiencing changes in their daily life. For the adult children of a parent or parents with Alzheimer's, the season can pose additional challenges. Regardless, there are ways to focus on getting the seniors through the holiday season. These may help them feel joy, bond as a family, and continue to celebrate the holidays with their senior loved ones.
Plan Meals and Celebration Ahead of Time
In the past, many senior loved ones may have relished the opportunity to showcase their holiday cooking skills and delightful recipes and cherished giving their family lavish gifts. When a senior loved one has Alzheimer's, their ability to plan seasonal celebrations can become limited. Here's how to help them avoid stress if they are demonstrating serious symptoms:
Talk to the senior clients and see how they feel about the holidays.
Suggest that their adult children or other family members host the event.
Discuss what type of activities they are interested in doing.
Look up local events hosted by senior area centers.
Offer to go to those spaces since the events are already planned.
Some senior clients have always hosted seasonal gatherings at their houses and exhibit mild symptoms. They might not want to end the tradition. There are ways to minimize the burden of hosting by keeping the following tips in mind:
Talk to them about preparing meals ahead of time.
Help them decorate and get their home ready for the holiday.
Remind them about supermarkets and stores that offer catering options.
Show them their decorations, remind them of holiday music, and gradually introduce the theme of Christmas.
Ask their other family members to bring special dishes and meals.
A Few Things to Consider in Taking Care of a Senior With Alzheimer's
A proactive approach to seniors with a recent Alzheimer's diagnosis is the right approach. There are times when assisting them may offend them. There is a fine line when addressing a senior experiencing cognitive decline where helpful measures upset the senior clients, although they are well-intended and the opposite of neglect.
Here are some reasons why this may happen:
Many seniors with Alzheimer's see more concern for their adult children or caregivers.
They are not used to attention and find it unflattering.
For some, the well-meaning attention and help may make them feel undermined, anxious, or frustrated.
For these senior clients, overly helpful (albeit well-intended assistance) might irritate them.
Ways to Avoid Providing Too Much Help
The way to avoid providing too much help to senior loved ones is to gauge where they are at in their lives and how well they function. For instance, if the senior client is only experiencing minimal problems, then being excessively helpful would involve attempting to take care of their daily habits, personal hygiene, and things during the holiday season that they can do (such as cooking if they are still comfortable with meal preparation). Again, this is a sensitive area, and determining to which extent the senior is impacted involves trial and error and communication.
The senior client will often want to participate in the holidays, yet determining how adult children should approach the holidays involves gently speaking with their parent(s). Adult children have some choices in how to handle the situation. One major thing to avoid doing is automatically dismissing the senior's ability to participate in the holiday season. The major point is to not assume the senior is completely incapable of their former abilities or leave them out of the celebrations.
Another area of concern is talking to young children about Alzheimer's. It's important to explain the symptoms of confusion, memory loss, and irritation to young children in the family. It is important to teach them that their grandparent is still the same person and that one's mind changes throughout life. It is not the fault of the grandchild. Validate the child's emotional response and be available to them.
About Us
Senior Helpers Boston is dedicated to assisting seniors and their families with concerns about Alzheimer's in Boston, Cambridge, Hyde Park, Mattapan, Norwood, Watertown, Waltham, and West Roxbury areas. Contact us for more tips for seniors with Alzheimer's or dementia diagnoses.